Fairtrade And Friendship In India – Meeting The Team Behind Our New Chindi Rugs
Date Posted:7 October 2016

A warm welcome in sunny Delhi
I first visited India in 2012 to take a look at the factory where our recycled plastic mats were being made. This time, I visited a new family business that I had made contact with. I wanted to see how the operation was run and to meet the families that made our amazing new product line for us.
On this trip, I was joined by a dear friend and old work mate (from a previous lifetime in the corporate world). Natalie grew up in Fiji and knew a little Hindi which brought a new dynamic to our trip together. It was rewarding to get a little more insight into all things India through her language skills.
The chindi factory that supplies our mats is owned and run by the Jain family, who welcomed us on a hot Delhi day and drove us some 100kms north to start our expedition. We didn't have to wait long for a touch of adventure as the clutch cable broke in the car, leaving us sitting in the mayhem of a busy intersection on the outskirts of the city for over an hour!
Thankfully we were met with smiles, greetings of Namaste (meaning 'I bow to you out of respect') and much appreciated cold water on arrival at the factory.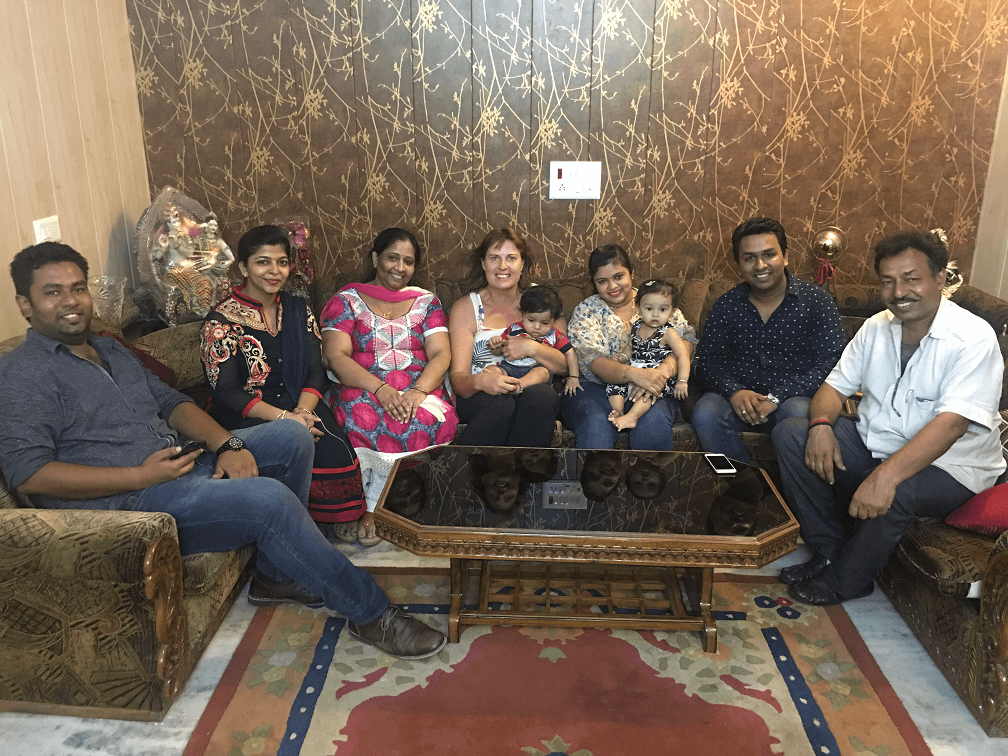 Meeting the team who make our stunning chindi rugs
Visiting the town of Hariyana was fascinating. The production process begins there with around 1000 local families, who hand plait cotton and denim rags (called 'chindi') or string (jute) into long ropes. For some, this is their main income. For others, this is a task they can do to make extra money around their main jobs or family commitments.
As we walked around Hariyana we saw people plaiting all through the village!
Parents, grandparents, young and old – all kinds of people were working wherever and whenever it suited them. This flexibility means more parents can be at home with their children and save money on transport costs, which can make a world of difference in a busy family.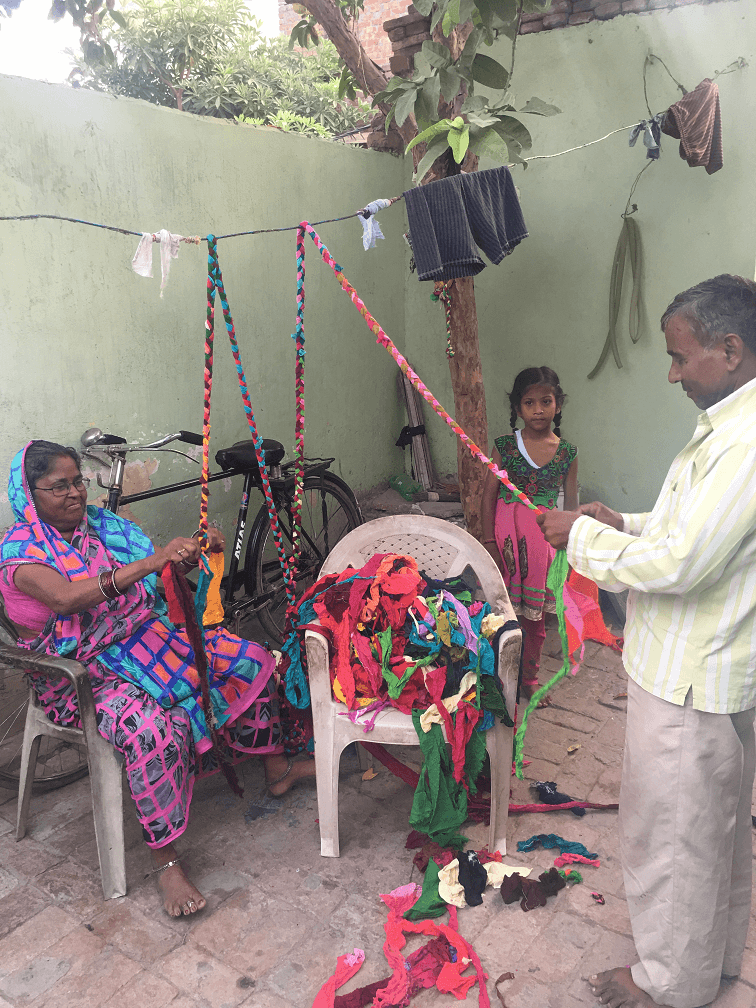 At the end of the day, families gather up their plaits and take them to a room in the village where they are weighed. On an average day one person can plait around 15-18kg of rope. A vehicle will then come and collect up the chindi rope and take it to the workshop nearby.
At the factory, good old Singer sewing machines are used to sew the plaits together and teams work by hand to create our beautiful chindi rugs. To ensure the rugs leave the factory clean and tidy, any stray pieces of rope or fabric are clipped away. Workers will then use an air blower to remove any dust from chindi rugs. When it comes to jute rugs, this process is actually done with fire!
The last step is for the rugs to be taken to the packing house where final inspection of each and every rug is made under the watchful eye of Senior Jain. All rugs are then rolled or folded, tagged and packed ready to board a ship bound for Australia.
From one family-friendly business to another
I was thrilled to meet some of the people who are benefiting from the extra family income they gather from making chindi ropes. The workshop runs 6 days per week and all families live nearby, which means they have a short commute to work and can pop home for lunch.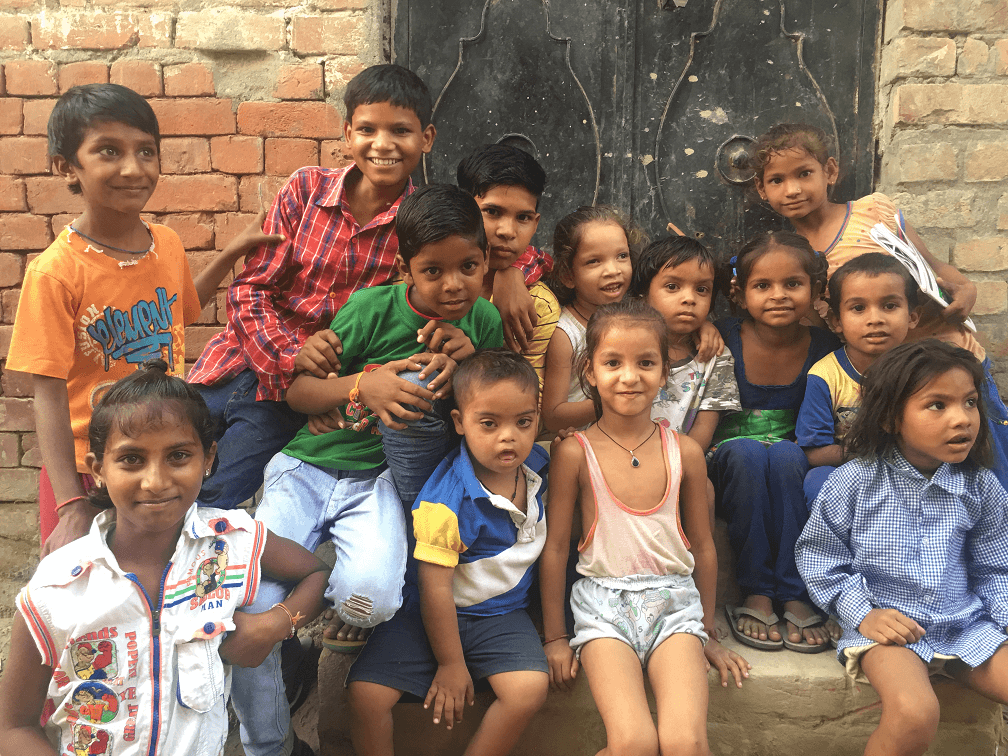 I started my business because I knew that when I had a family I would want to work around my kids, instead of my kids fitting in and around my work. It is truly an honour to visit places around the world where our rugs are made, knowing that the work we provide allows other families this same work life balance.
All work and no play? No way!
But don't let me give you the impression it was all work and no play! We took a little time out to visit the gorgeous Taj Mahal with my old and dear friend Swami, whom I had met on my earlier visit to India. We also took in some other villages and markets where we sourced product ideas to share with you in 2017.
Those who know me well know that I can be a bit of a crazy chick! I took the chance to enjoy a motorbike and a tuk tuk ride – and, yes, I drove them both!
India is a country of contrasts. Expect to see everything from the breathtaking to the bizarre! Most importantly, though, it's home to some of the most creative, industrious people I know. I'm grateful for the friendly business relationships we've put in place on this trip, allowing me to bring the best in beautiful, ethical products from India to you!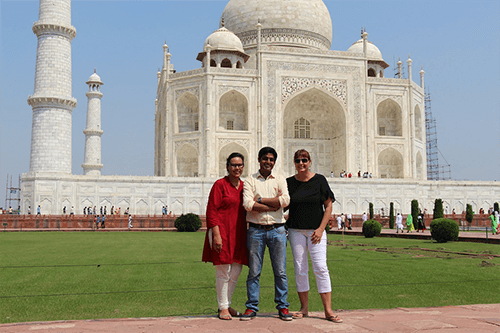 Browse our range of colourful chindi rugs

here

and order online today for fast delivery!
---
Comments (1)
Great work

3 November 2016

Inspired by the ethical culture of the family business quality and love demonstrated in finished product of which we have 3 mats in our home
---
Leave a comment