Indian Décor – How to be Sustainable with Eco Friendly Design Choices
Date Posted:11 March 2017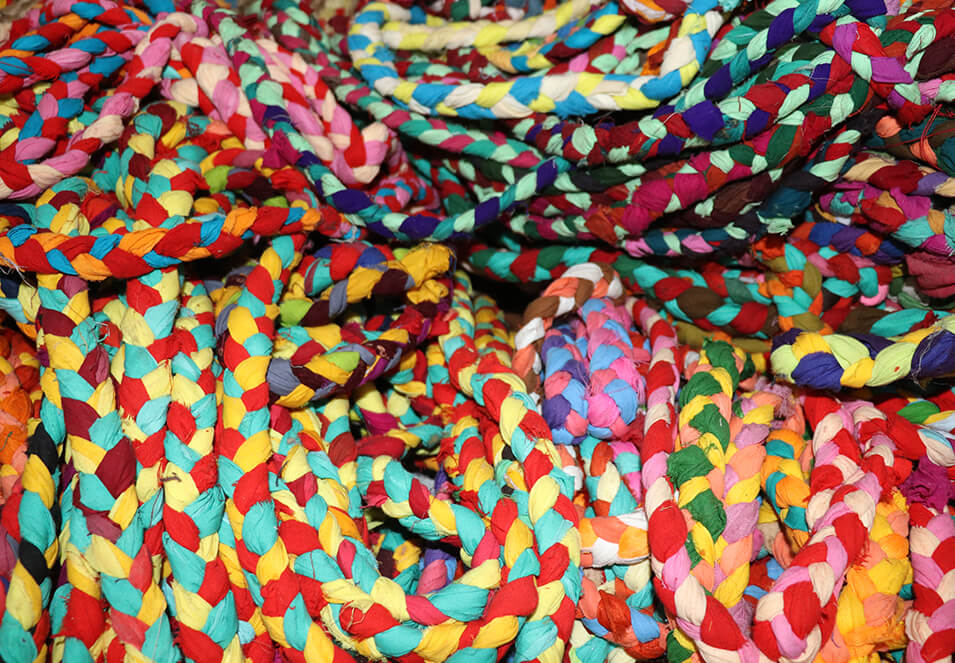 The guide on how to be sustainable with home decor choices you make.
Stylish Indian Decor is the Solution
Have you heard about the Minimalist Movement yet? In essence, it's about stopping one's own rampant consumerism and making different choices about what and how you buy. It's kind of like taking a vow to start making more considerate and kind choices about the things you have in your home and life.
At the heart of the Minimalist Movement is that you should love all of the things you own. It's keeping those things that make your heart sing, and finding ways to re-gift, reuse, or recycle the things you don't. (One standout positive benefit of this philosophy is that if you save what you aren't spending, you'll soon have funds for life-changing experiences the whole family can enjoy, like travel and learning.)
But at Recycled Mats, we like to take this notion of 'loving the things you own' one step further. Imagine if the things we love and own also have their own favourable backstory. We'll be more likely to love those things we buy even more. Don't you agree?
Reuse, Recycle, Remake - The Heart of Recycled Mats Indian Home Decor Philosophy
At Recycled Mats, it's the reason we love what we do so much. Our craftsmen and craftswomen create beautiful products, but even more importantly, they do so with recycled materials that are saving the planet, one plastic bag, or one piece of used clothing at a time. It's the epitome of sustainable interior design, this practice of buying pieces to furnish your home space that are not just beautiful in style, but that are made with love through ingenuity.
Our Recycled Mats business, by selling these recycled and upcycled wares on their behalf, also sustains and supports dozens of families, like yours and mine, in countries all over the world. Sustainable décor is changing lives for the better.

Beauty in Business
This past month, my friend and business colleague Joe and I have been in India visiting our people on the ground, the very ones who craft the prettiest of Indian décor for the home – our favourite rainbow-coloured Chindi rugs, braided from used clothing, along with rugs made from jute, sisal and denim.
I adore watching these talented and skilful men and women as they plait and braid metres and metres of fabric, the first step in creating a unique piece that will brighten any home. Their work is like a meditation – peaceful, rhythmical, and completed without rushing or racing.
I'm reminded of how I always seem to be on the go, in a rush to get out the door on time. Oh, what a gift it is to watch these men and women embrace time. I'm reminded of that quote "It will take as long as it takes". Evidently, quiet, steady action is all you need to make the most charming of Chindi rugs.
Family and Community Matters in Sustainable Industry
Our Chindi rugs manufacturer is a family-owned company, started way back when, by two brothers. Today, those brothers are grandfathers, and the day-to-day matters are handled by the next generation – one son (our beautiful friend Tarun), his brother and his cousin.
They are proud to employ over 250 villagers across 12 villages and ensure no child labour under any circumstance. It's really easy to see how well regarded our friend is in his village by his people and no wonder. Employee wages ensure that their families are well fed and well cared for, the work is flexible and accommodating to their needs, and there is no shortage of opportunity when someone needs extra hours to pay an unexpected bill.
The more Indian décor rugs we order, the more opportunity there is for the townsfolk. Did you know your purchase of a rug from Recycled Mats directly impacts the lives of these people we know and love? It's a fact and we sincerely thank you from the bottom of our hearts for your ongoing support.
Buy Sustainable - Indian Decor to the Rescue
So when it comes to styling your home without the guilt that comes when you buy 'stuff that you don't need, just because it caught your eye", we have a solution. Our recycled and handmade Indian décor, including our gorgeous Chindi recycled rugs, jute rugs, and leather rugs, is the ultimate way to do your bit for the environment while loving your home space.
With Autumn starting to set in, and Winter just around the corner, now is the time to purchase your very own Indian décor rug, an acquisition that we're sure you'll love more with each passing day.
Indian Decor - Changing the World, one rug at a time....
Please click here to see our current range of Indian Décor handmade rugs and mats
There's Chindi rugs in small, medium and large circles, as well as an oval shaped Chindi rug also. Plus, we have Chindi rugs in denim fabric too. We also stock a range of other Indian rugs which might take your fancy too! Take a look today to see which Indian Decor Rug you love best.
---
Leave a comment