Milton Tupaea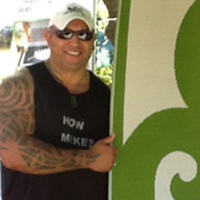 Milton is a talented carver and designer with Ngati Maniapoto connections. He creates stunning Maori motifs, including our beautiful Aroha recycled mats.
Designer of Aroha - Working with Recycled Mats since 2012
Milton is the very talented carver who creates the stunning Maori screens..., everything from wall art, to wheelie bin screens and some totally stunning 2.5m screens for your garden area.
You will love being able to have a piece of NZ in your home.
To contact or learn more about Milton, or view his work, visit (and like) his Facebook page TupaeaDesignz
---
Leave a comment