Stunning pack of 5 gift cards with authentic Aboriginal Art
Created by De Greer Yindimincarlie, this vibrant set of 5 blank gift cards suit any occasion. Purchase this gift pack on its own or use it as a brilliant addition to orders that you are gifting!
'Fire Dreaming'
"Fire for Aboriginal people was essential. It provided warmth, food, safety, communication, a means to tend to our land, and much more. The colours of fire dreaming are warm, rich, and they belong together, as together they offer us all these things. Fire dreaming also represents a lot of other aspects in our individual lives. If you think about your life, what is your fire dreaming, what is it that provides your necessities for you?"
'Variegated'
"Sometimes when we look at something, we think it's the same, but the more we look at it we notice it's differences. We are all variegated, yes we are all the same, but different at the same time. It's these differences that make us individual, and it's important not to lose these aspects because they make us who we are"
'Earthlines'
"The layers that make up our earth. Many and varied they are strong, but temperamental at the same time. These lines support us, guide us, protect us and serve us."
'Connecting with you'
"Everyone in this world is connected through one person or another. Imagine how many people you walk past in the street every day that are connected to you, and you don't even know it. This world is a very big place, but if you start to think about it in connection, all of a sudden it really isn't that big at all. So at this very second, I am connecting with you....I wonder how many others are also connected to us?"
'The many aspects of me'
"The many aspects of me is a reflection of me as an artist of many mediums. There is a lot more to me than just a painter, as there is with all of us. The seedpod in the middle represents all the different aspects of me and the many mediums my creativity spans. These mediums allow me the flexibility to express emotion, mood, environment and experiences a variety of ways. It is a wonderful feeling to be able to create a painting, a film, a song, a graphic, a new business, a product, and a piece of textile all within one day. For me as a multidisciplinary artist, it is important to be able to have the freedom to do this, because constantly create is a compulsion for me, it is something that I have to do."
Information about the artist and the meaning behind the designs can be found on the back of each card. Envelopes are included.
Name of Design
greetings
Origin of Design
Australian Aboriginal
Artist
Origin of Artist
Aboriginal
Size
A6
Colours
Multi
Fabric
100% Paper
Notes
Each Gift Card comes with an envelope
SKU
BB40
PLEASE NOTE
Not suitable for children under 3 years
| | |
| --- | --- |
| SKU | BB40 |
| Barcode # | 797776544639 |
| Brand | Yindi Artz |
| Shipping Weight | 0.1000kg |
| Shipping Width | 0.100m |
| Shipping Height | 0.100m |
| Shipping Length | 0.100m |
| Shipping Cubic | 0.001000000m3 |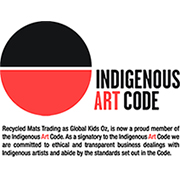 Recycled Mats is a proud long-term member of the Indigenous Art Code, which ensures transparent, fair and ethical business trade in works of art by Indigenous artists.