Meet the Makers of our Indian Chindi Rugs!
Date Posted:10 March 2017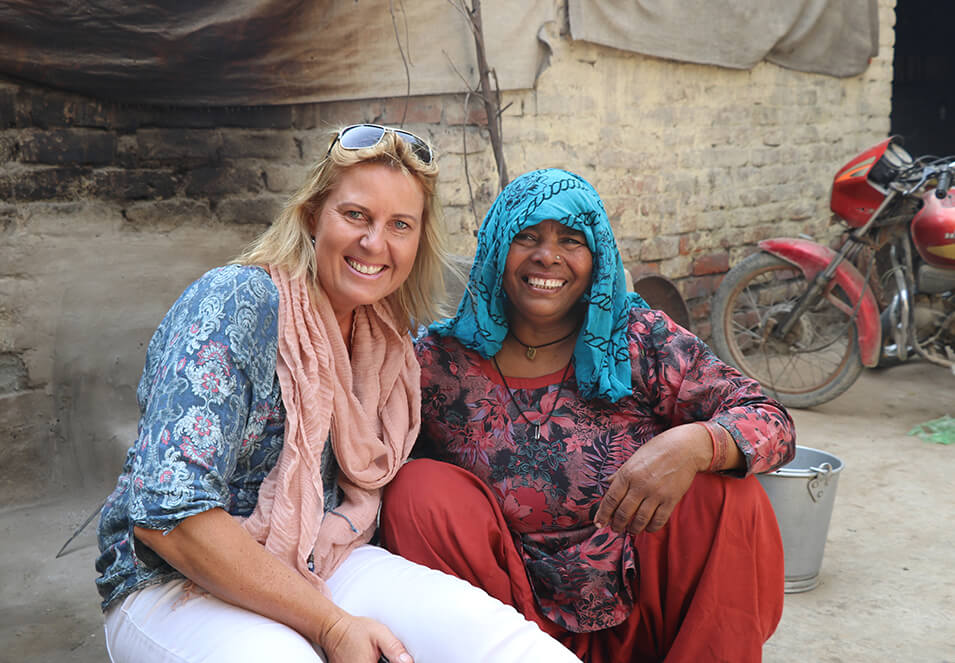 Indian Chindi Rugs - Panipat, India
In early February, my business colleague Joe, and I travelled to Delhi, India on our way to visit our Chindi Rugs makers in the district of Panipat. Panipat is most well known as a historical city that was the site of three important battles that marked turning points in Indian history. But for us, Panipat is home to the craftsmen and craftswomen who are instrumental in creating our Chindi Rugs.
These handmade rugs are definitely some of our favourite Indian rugs and for good reason. Chindi rugs are made from old clothing – tonnes, and tonnes, of recycled and repurposed clothing is first sorted into colour piles then torn into long strips of useable material. Next, these strips are woven into colourful "plaits". Our artisans then carry their plaits to the weighing station and they are paid per kilo of plaits.
Recycling and Upcycling Used Clothing into Indian Chindi Rugs
There's more. Did you know that a large number of the containers that bring clothing to Australia from China, India and Bangladesh return to their home port empty? What a shameful waste of resources. Luckily, the production of Chindi rugs requires more discarded clothing than the villages could ever produce, so in recent times, the manufacturers have been importing bales of A-grade used clothing from Australian charities to supplement their own supplies.
This is a quadruple win.
Fashion lovers no longer need to feel quite so guilty about looking good
This upcycling endeavour lowers the burden on landfill capacities significantly, a major coup for the environment and environmentalists.
Charities gain from the sale of the bales and are able to fund more helpful programs for those in need.
Lastly, those who wish to make sustainable and eco-friendly choices when it comes to their own home décor and interior design purchases now have many more beautiful and colourful options. We are SO proud to be an Australian business that plays a part in such a tremendous undertaking.
Employment for over 250 Villagers
At Recycled Mats, we support over 250 villagers from 12 surrounding communities through our collaborative efforts to bring handmade Chindi rugs to Australia, New Zealand and the world. Our Chindi rugs give both men and women from these villages the opportunity to 'work when you want'. Flexible work means that families can work around their children, at least one parent can work from home, age is no barrier to the work opportunity, and with the centralised workshops, employees only have short distances to travel when they do need to go into work for supplies.
This year was my second visit to meet with the makers. I feel so very blessed and fortunate to have the chance to spend time with these humble people. While their lifestyle and culture is different to ours in many ways, having a shared goal – that of making beautiful quality Chindi rugs and bringing a giant smile to the faces of all who own one – binds us. It really is an honour to meet, spend time with, chat to, and eat with the hardworking folk who play a part in our dream.

Indian Connections
In Panipat, there are two women in particular with whom I feel a deeper connection has been made. On this visit alone, Joe and I met their families, hugged their children, cooked and ate with them, and laughed hysterically with them. It is true – body language and sign language cues are universal! I am really looking forward to taking my son with us on our return in 2018, to introduce him to these women and their families, and to share more stories together.
India has always been a favourite country of mine, but working with these entrepreneurial and creative people only adds to the sweetness and the joy I feel when I arrive for a visit. Thank you India, and Panipat. See you again soon.
Expanding our range of Indian Chindi Rugs this year!
In 2017, we will continue to stock not only our rainbow-hued Chindi rugs in three different sizes (small circular rugs, large 3m round rugs, and large oval rugs)
We will be expanding our range to include recycled leather rugs, pom pom rugs, jute rugs, baby rugs, boys rugs, girls rugs, and hallway runners. We will have more bedroom rugs, nursery rugs, large floor rugs, rugs for the lounge and living rooms, and rugs for the kids playmat. We love our recycled rug collection and we know you will too! It's interior design with conscience. To see all our current designs, colours and sizes of Indian rugs, recycled mats click here.
---
Leave a comment