CROSS HATCH
Aboriginal Design Mat Set
In Stock
Please Note
We custom print this oversized item to order, especially for you (yay)! It is printed offsite and delivered by courier. Please note that shipping costs are calculated by size and cannot be shipped to a PO BOX. We expect your delivery to arrive 2-3 weeks from the date the order is placed.
$299.95
13% OFF
RRP $345.95
These rubber play mats feature Aboriginal cross hatch designs with Aboriginal symbols including kangaroos, fish, snakes, goannas, turtles, echidnas, and pelicans.
This traditional Indigenous style is well loved the world over. The technique requires the application of many parallel lines which helps enhance and give depth to the overlaid image. The artist of the Australian animal mats is Leslie Giles who comes from Arnhem Land in the Northern Territory.
Each playmat, designed by Susan Betts, showcases Aboriginal artwork of symbols or pictures, to help children identify and understand cultural and community motifs still used to this day. The play mats can be used as an educational tool to teach children how Aboriginal symbols give information. Discussing the mats during circle time can lead to empathy and understanding for all cultures. You can also extend this learning with the Little Black Game Pack, similar to Memory, but using Aboriginal design.
Want to teach the children about the special relationship Aboriginal people have to our great big land. Each design in the set speaks about the native species and its relationship with the community, and gives us an opening to talk about food sources, spiritual beliefs, and more.
Use these mats individually on excursions, during performances, at lunch time, and during transition games in preschool and kindergarten.
Library teachers can use these play mats to introduce Indigenous concepts in libraries and children's literacy zones or create a book nook or learning zone with these play mats as the centrepiece.
Printed using the latest high tech permanent printing methods, using 100% green energy ( solar ), mats have been treated with Stainguard for protection from spills. Life expectancy is approx 5 years, less for a commercial environment.
A set of twelve Indigenous Design Play Mats - 36cm x 52cm each. Please note that this item is custom-printed to order. Items will be dispatched approx 2-3 weeks from the time of order and can only be delivered by courier to a physical street address - PO box addresses cannot be used. Shipping costs are calculated by size. Our eco-friendly, high tech printing is undertaken offsite so this item is not stored in our Tweed Heads warehouse and is therefore unavailable for Click & Collect.
Name of Design
cross hatch
Origin of Design
Arnhem Land, NT
Colours
Red Brown
Fabric
Recycled car tyres and PET plastics.
Care Instructions
May be cleaned with warm soapy water. May be used both outdoors or indoors, but is recommended to not be left in direct UV sunlight as fading may occur over time.
SKU
RCAU15
PLEASE NOTE
Not suitable for children under 3 years
rubber play mats for indoor fun
all weather puzzle
individual seating for the whole class
carry them as pull-up seating for outdoor lessons
share in storytelling with the motifs on the mat
embedding culture into classroom
have fun together
| | |
| --- | --- |
| SKU | RCAU15 |
| Brand | Recycled Mats |
| Shipping Weight | 6.0000kg |
| Shipping Width | 0.550m |
| Shipping Height | 0.150m |
| Shipping Length | 0.550m |
| Shipping Cubic | 0.045375000m3 |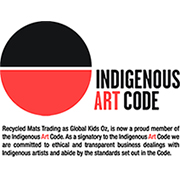 Recycled Mats is a proud long-term member of the Indigenous Art Code, which ensures transparent, fair and ethical business trade in works of art by Indigenous artists.
We Also Recommend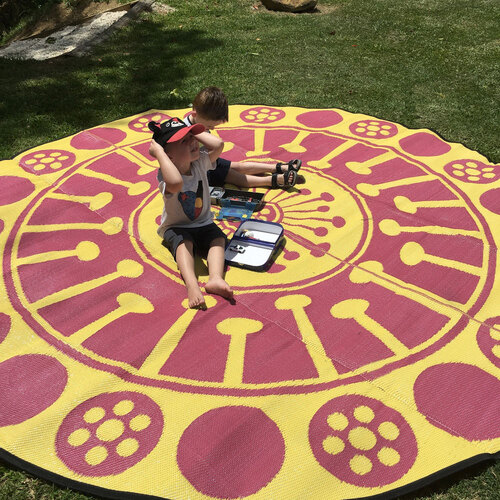 Aboriginal Design Recycled Mat, Yellow & Pink
$169.00
3% OFF RRP $174.95

Aboriginal Design Recycled Mat, Black, Brown & White
$209.00
13% OFF RRP $239.00