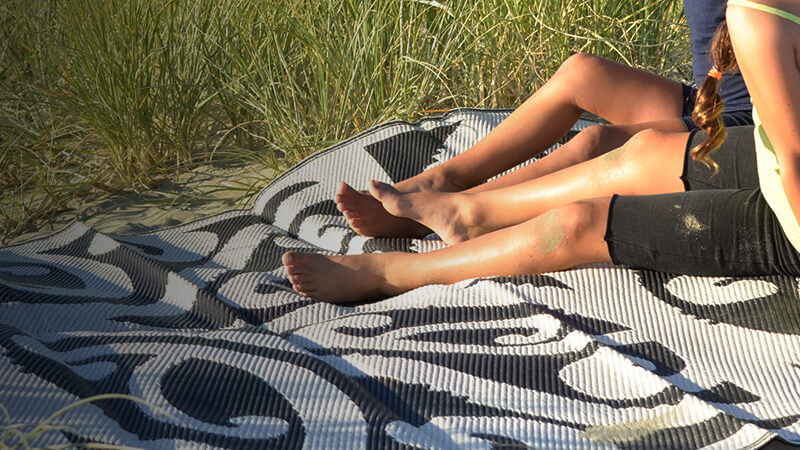 All Cultural Recycled Plastic Mats
Our collection of culturally designed recycled plastic mats are more than beautiful, artistic and comfortable. They are a celebration of the cultures, the personalities and ideologies of the artists who designed them. Promote inclusivity and embed culture with our collection of cultural mats.
Authentically Designed Cultural Mats
Our collection of recycled cultural mats stands out for its raw and authentic inspiration by individual cultures. From Aboriginal, Mauri, South Pacific, Torres Strait Islander and Melanesian cultures, our mats capture rich and diverse cultures. We work with individual, well established artists who have been raised in and experienced their respective cultures. These highly talented artists not only understand the culture but also the hidden philosophies, teachings and stories behind each symbol and motif. Consequently, all their designs carry more than beautiful patterns and color combinations. They are an embodiment of the integral parts that make up the respective cultures. They also tell stories of the individual artists interaction with their respective cultures.
The unique AA I FAGA Pacific Island Samoa design by Paul Childs is a perfect example. This design celebrates the Samoan artist's interaction with the flora and fauna in the Pacific Islands. Aa I Faga means 'My roots come from the Bay' and Paul depicts ocean waves lapping the edges of his Pacific Island home. The same theme is replicated in our entire collection with each artist portraying their culture authentically and in a subtly calming way. Some of our artists include Turumakina Duley, Christine Slabb, De Greer Yindimincarlie, and Angela Marr-Grogan among many other amazing talents.
In staying true to our company values of integrity and sustainability, our cultural mats are exclusively made from recycled plastic. In making the recycled cultural mats, we are not only avoiding adding to landfill but also actively helping remove waste from waterways and oceans. Grab yourself one of our unique cultural designs and let us celebrate the Aboriginal, Mauri, South Pacific and Melanesian cultures together.