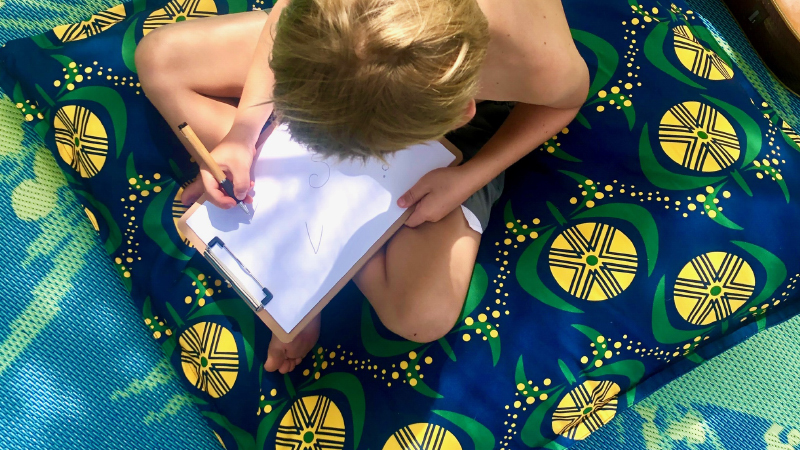 Beanbags/Giant Cushions
Take a break from your busy schedule and relax on our exclusively designed Beanbags. Every object in your home should bring you joy and comfort, these beanbags help you achieve a homely home for the whole family. You can also take them out for lazy afternoons or a day out picnicking with family.
Due to a huge response, we are now working on a new range along with some old fave's are DUE BACK IN STOCK Late in 2020 - WATCH THIS SPACE. If you wish to register your interest so your advised when they are ready then hit the NOTIFY ME WHEN BACK IN STOCK button and leave your details and we will email you they are ready.

Aboriginal Design Bean Bag
$99.95
16% OFF RRP $118.95
Soft, Comfortable and Trendy Beanbags
Experience a whole new level of comfort, calmness and relaxation from our incredibly soft and luxurious beanbags. Made from cotton/polyester canvas, the beanbags have a soft, calming feel to them that makes your afternoon nap or movie time your favourite time. They are truly a perfect addition to your lounge rooms, children's rooms and family rooms. And that's not all, take several with you during your outdoor activities and events for the best time out. Include our portable picnic tables and outdoor mats and you'll be the envy of all around you.
Our Beanbags are authentically designed by Indigenous artists alongside our own range of contemporary designs for a more individualistic look. Add them to your childcare centre or school to meet cultural inclusion program targets. No worries about them getting all dirty as cleaning and maintaining them is quite effortless.
Here's an idea; promote sustainable living by filing your beanbag with your own choice of recycled materials such as clean rags, old washed and clean clothes or scrunched up newspaper. Better yet, store away your less used soft kid's toys by stuffing them into the bean bag if you can't bear to throw them away.