Recycled Mats - "Changing the world, one rug at a time"
Trusted & chosen supplier too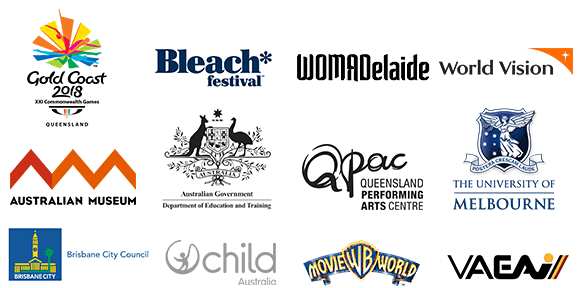 Choosing great floor coverings is about getting the perfect balance of function and flair. The décor you choose for your home, office or classroom should also tell a story. It might be the story of who you are and where you come from or a story of faraway lands. It could be educational, meaningful or simply just colourful! Made from recycled materials, our mats are designed for sharing cultural stories, whether it's a class of children playing music on our authentic Aboriginal & TSI mats, or a family gathering for fireside festivities or events. Our mat motifs are commissioned from talented local Indigenous artists, who celebrate authentic cultural stories through their designs, working with artists from each culture ensures that the designs are appropriate for floor use and that respectful consent has been granted to produce the works of each tribe and person.
As seen on

Sustainably manufactured + Authentic + Culturally inspired
Whether you need childcare mats, camping floor mats, indoor play mats or outdoor picnic mats, our recycled plastic mats are:
authentically designed by Indigenous artists
made using recycled polypropylene
FREE recycled reusable plastic or vinyl carry case included
soft and comfortable long-lasting UV treated
lightweight and easy to roll up, transport and store
mould resistant, fully washable and quick to dry
reversible (two designs for the price of one!)
Our mats are a must-have addition to the early learning classroom, making teaching about diversity easy, practical and fun. Early readers will love this soft, warm space to share a story, whilst babies can explore textures and visual stimulation during tummy time. We also see our mats at sporting events, fetes and festivals, beaches and campgrounds, living rooms and office foyers. Wherever people love to combine bold colour splashes, talking-point designs and resilient, low maintenance ground cover, our recycled mats fit the bill. Make any space a celebration of colour, creativity and cultural diversity with high-quality recycled mats.
Celebrate authentic cultural diversity with Recycled Mats

Here at Recycled Mats we only ever work with Indigenous artists to ensure absolute respect and integrity, leading the way back in 2009 Recycled Mats was the first to work with Indigenous Australian artists to create recycled plastic mats, and for this we are honoured to have been chosen by many to supply their homes, daycares & educational spaces with authentic quality, practical art. Founder & Owner JJ Stranan