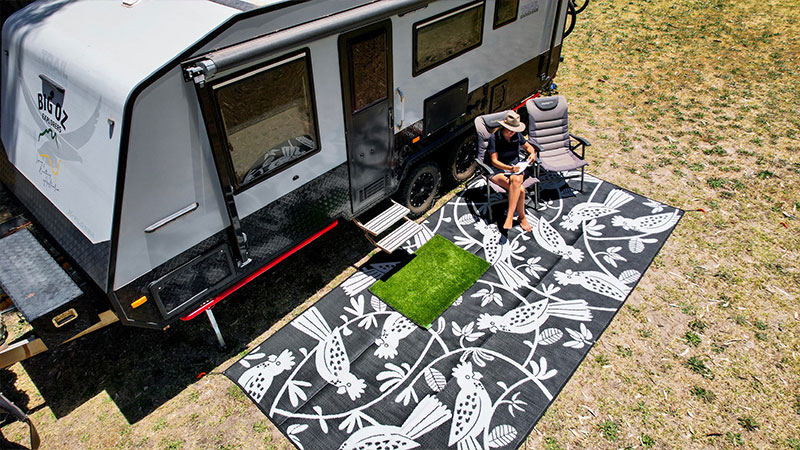 Caravan, Camping, Annex Mats & Accessories
There's nothing quite like camping under a velvety blanket of night sky studded with twinkling stars. It stirs something that's innate in all of us - the deep connection we feel with nature and those we're sharing her with. Spending quality time in the great outdoors can be as simple as an overnight sleepout in the backyard, a week of camping in the bush or months on the road, exploring all this remarkable country has to offer.
To get camping right, having the right equipment can be key to not only everyone's comfort but also the effort it takes to get set up and packed down. When you finally get to your site, who wants to spend hours unpacking, assembling and sorting piles of equipment, knowing it all has to be undone at the end of the trip? Our recycled plastic caravan mats help to make that job a cinch .... you might even say, a walk in the park!
Lightweight yet sturdy, compact yet spacious, not only are our camping mats super easy to clean and quick to dry, they're UV treated, waterproof and mould resistant. Perfect for your next camping or caravan adventure!
The Top 10 Reasons To Go Camping?
Not only is it fun but the benefits that come from spending time in nature are numerous and available to everyone, young or old, first-timer or experienced camping enthusiast.
Here's the Recycled Mats' list of the top 10 reasons to get packed up and outdoors!
Reduces stress: Being away from busy work schedules, ringing phones, deadlines and alarms, camping is Mother Nature's chill pill. Just taking the opportunity to slow down and listen to the sounds of the bush can do wonders for bringing stress levels down and getting you settled into a state of calm and quiet. Take a moment, get comfy on an outdoor camping mat and just breathe.
Connecting with Others: One of the most important aspects of spending time in nature with others is the opportunity it provides to build and strengthen relationships. Away from the distractions of tv and tech, campers usually spend a lot more time talking and doing, rather than sitting and staring at a screen. A campfire replaces the computer or tv, and inspires the sharing of ideas, the imparting of wisdom and the telling of stories, old and new.
It's Healthy: Getting out in the elements, breathing in fresh unpolluted air, exposing ourselves to more sunlight and clean water is undoubtedly good for us. The boost to serotonin this brings on not only lifts the spirit and improves mood, it usually makes for better, more restful sleep. And camping outdoors often involves more physical activity too so is a great way to burn calories and build strength, all while having fun!
Learning New Skills: From setting up tents, tying knots, catching fish to cooking over a fire pit, everyone gets the opportunity to learn something new. The passing down of skills and knowledge to children is priceless and does wonders for building their confidence and problem-solving abilities.
Family Time: With no jobs or schools to rush to, the chance to spend quality time together as a family can be a fabulous way of easing tension, opening up difficult conversations and engaging as a cohesive unit. Just one camping experience together can change the course of a family dynamic for the better.
Making New Friends: Whether you're in the bush, by the beach or parked up in a campground, the opportunity to meet people and start new friendships abounds when out on the road. Once in the outdoors, a lot of people seem to open themselves up to new experiences and relationships. Here at Recycled Mats, we've been told many times that conversations with strangers have been inspired by our caravan and annex mats!
Great Food: There's something about the taste of food cooked on a bbq or over an open flame that just can't be replicated at home. Maybe it's the intensity of flavours created from grilling food or the fact that you're eating it outside in the fresh air that makes the difference – either way, camp food is where it's at. And if freshly caught fish is involved, say no more!
Simplifying Life: It's good for us all to pare life back and realise that we can live well (or even better) with fewer objects and less clutter around us. And what a wonderful lesson for children! So keep it simple, just a camping mat and a table are all it takes to get set up outside.
Boosting the Economy: Travelling the countryside and getting away from the big cities, is our chance to support small-town economies. From the bakery to the local pub, every town, small or large has local businesses that need our patronage and support…and can often be a wealth of local knowledge!
It's Affordable: Camping and exploring our very own backyard doesn't have to involve expensive vehicles and equipment. There's a wealth of information online that can help you to plan your next adventure on a shoestring budget. It can be as simple as a recycled plastic mat and an esky of food in the middle of the bush…just a day spent in nature can inspire memories to last a lifetime.
You can read more about camping and the best mat to choose here
Why Choose one of Our Camping and Caravan Mats?
Not only is Recycled Mats an Australian-owned and operated business, we're also Australia's leading retailer of recycled plastic outdoor mats of both contemporary and Aboriginal designs. And we've been doing this for a while. What started out in 2009 as a small side business driven by the passions of just one person - read more here - Recycled Mats has evolved to a staff of 10 with a mat range of almost 200 items!
Our popular recycled outdoor mats tick all the boxes when it comes to adding character and versatility to your caravan or camp set-up, picnic or outdoor event. Sand and water will work their way through your mat while it also serves as a barrier against stones, itchy grass and insects - at the same time, allowing the circulation of air… so both foot and grass-friendly! They're also reversible which not only gives you two design options (for the price of one) but helps to extend the longevity of your mat.
The larger annexe mats come with eyelets for tie-down purposes but they're also an option on all other mats, as are umbrella eyelets for those days when sun protection is called for. Read here for more information on how to choose the right mat for your camp setting.
Featuring a large selection of modern and cultural designs, you now have the perfect way to introduce comfort and style to your outdoor area. And our recycled mats come in a huge variety of colour combinations, sizes and shapes so we truly have something for every space and everyone, kids included!
Together with our recycled mats, we're also proud to stock outdoor folding picnic tables, cushions covers, sand-free mats and towels, yoga mats and other camping accessories, all of which are either comprised of recycled materials or eco-friendly in their manufacture and use.