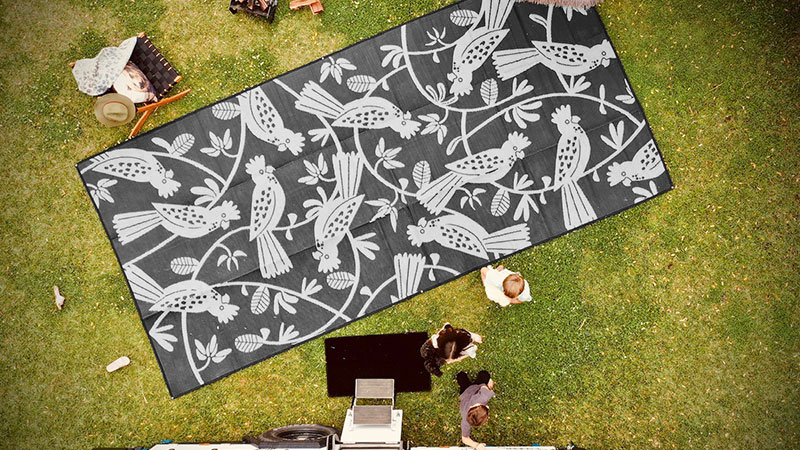 Black Cockatoo Initiative
Here at Recycled Mats, we take pride in our ongoing commitment to "Caring for Country". Our range of outdoor mats is not only made from recycled plastic and therefore kind to the environment, we also donate proceeds from sales to various charities around Australia.
In an effort to regenerate and support land for local wildlife, and with your help, we've already undertaken a successful program to donate hundreds of native trees to be planted across Australia. We're now going to add to this initiative by raising funds for the Kaarakin Black Cockatoo Conservation Centre in WA...and you can join us!
With every sale of a Cockatoo Crackle mat, we pledge to donate 10% of the proceeds to this inspiring project. Each time a tally of $1000 is reached, we'll be contacting KBCCC to work with them on their release program. More information can be found at this link.
https://blackcockatoorecovery.com/get-involved/sponsorship-opportunities/

Recycled Plastic, Mustard & Smoke
$289.95
9% OFF RRP $318.95
What's so Special about Black Cockatoos
Australia is lucky enough to be home to six different species of black cockatoos, two of them more widely seen than others – the Red and Yellow-Tailed black cockatoos. The Yellow is identified by the yellow wedges on it's black feathers, the Red easily spotted by their vibrant red tail feathers. Other species include the Glossy, Carnaby's and Baudin's Black Cockatoos. There's also a sub-species called the Palm Cockatoo found on the very northern tip of Cape York.
They're an iconic species, sociable, happy to spend time hanging out as a 'couple' and long-living (up to 50 yrs!).
But sadly, their numbers are in serious decline and this is largely due to loss of habitat and the fact that they're very slow at reproducing. It takes many years and a lot of effort for cockatoos to successfully raise their young with only one chick in a season reared to adulthood. They're also at risk of attack by dogs and cats, both domestic and feral, as well as being struck by vehicles.
In an effort to support important habitat preservation initiatives and rescue-and-release efforts, the talented Recycled Mats' graphics team has designed a beautiful mat that showcases this magnificent bird. 10% of the sale of every Black Cockatoo mat will be pledged to the Kaarakin Black Cockatoo Conservation Centre to assist with their program. It costs approx $1,000 to rescue, raise and release just one bird and it's our hope, and with your help, to eventually release a small flock back into the wild.
What Else Do We Do?
Not only is Recycled Mats an Australian owned and operated business, we're also Australia's leading retailer of recycled plastic outdoor mats of both contemporary and Aboriginal designs. And we've been doing this for a while. What started out in 2009 as a small side business driven by the passions of just one person - read more here - Recycled Mats has evolved to a staff of 10 with a mat range of almost 200 items!
Our popular recycled outdoor mats tick all the boxes when it comes to adding character and versatility to your classroom, camp set-up, kids party or outdoor event. Sand and water will work their way through your mat while it also serves as a barrier against stones, itchy grass and insects - at the same time, allowing the circulation of air… so both foot and grass-friendly! They're also reversible which not only gives you two design options (for the price of one) but helps to extend the longevity of your mat.
The larger annexe mats come with eyelets for tie-down purposes but they're also an option on all other mats, as are umbrella eyelets for those days when sun protection is called for. If you're planning to use your mat on a smooth floor like polished concrete or vinyl, it can be held in place by either anchoring it down with furniture, using a non-slip underlay or securing it with a strong, clear adhesive like Nano tape.
Featuring a large selection of modern and cultural designs, you now have the perfect way to introduce comfort, colour and style to your space whether it's indoors or outside. And our recycled mats come in a huge variety of colour combinations, sizes and shapes so we truly have something for every space and everyone, kids included!
Together with our recycled mats, we're also proud to stock outdoor folding picnic tables, cushions covers, sand-free mats and towels, yoga mats and other camping accessories, all of which are either comprised of recycled materials or eco-friendly in their manufacture and use.