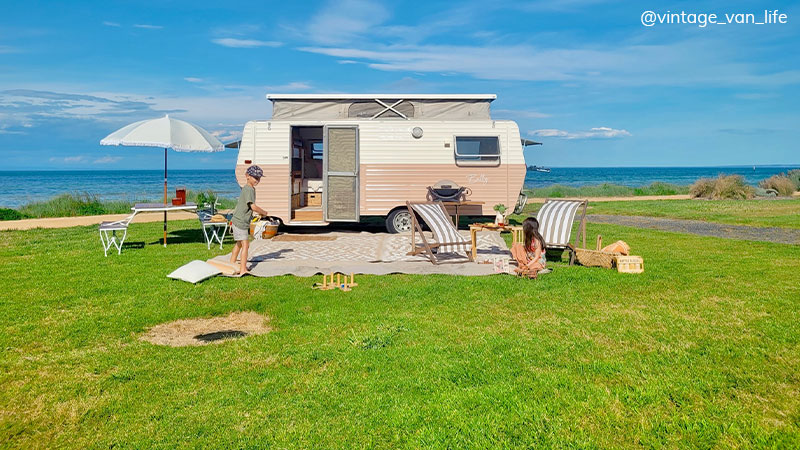 Caravan Mats
When it comes to making the most of your next camping adventure, there's no question that a good caravan mat can make all the difference. Whether you've got a compact tear drop or a 21 footer, if you can optimise your outdoor and awning space, the comfort levels and fun times are going to be maximised for all. And let's face it, outside the van is where it's at!
Lightweight, yet super sturdy, our caravan mats are not only a cinch to clean and quick to dry, they're waterproof and UV treated so ideal for the campsite. They also look great, coming in a broad range of design and colour options to suit even the fussiest of campground stylists!
Why use our mats for camping?
When it comes to spending time in the great outdoors, being able to engage and re-connect with nature is really the goal and to do that, we need to be able to immerse ourselves into the surroundings. What better way than being comfortably seated (or lounged) outside, whether alone or with others, soaking up the sunshine, breathing in the fresh air, gazing into the distance.
Our recycled plastic caravan mats will literally form the foundation from which you can create your seat in nature! Easy to carry, transport and store, they're ideal for taking on the road and can be set up and packed down in no time.
Being waterproof, they're mould resistant and a cinch to clean….shake off, sweep off or if you need to remove mud and other muck, just hose down and brush with a soft broom. If you've placed your mat under an awning, you can keep even more dirt and sand at bay by adding one of our turf or muk mats either at the entrance to your outdoor area, van or tent. They're especially good at brushing sand off shoes and bare feet, keeping the dirt where it belongs…outside!
The tight weave of our camping and caravan mats will not only act as a barrier against sharp stones, sticks and insects but also allows for air circulation, protecting the ground underneath. Happy days if you're staying in a campground with mat restrictions!
They're are also UV treated to resist fading though we don't recommend exposing them to ongoing, continual direct sunlight as this can lead to fading and deterioration over time. If you are set up in one spot for an extended period, best to turn the mat around every few days and/or flip it over – being reversible goes a long way to extending the lifespan of your mat. For more tips please go to our Care Instructions page.
When it comes to entertaining whilst camping, having the right space for your guests will ensure both ease and comfort for all. Our mats can substantially extend your usable area whether you're in a caravan park, by the beach or somewhere out bush. Pair them with outdoor cushions, picnic tables and a portable fire pit for the ultimate set up and be sure to check out our full range of picnic accessories to complement your next outdoor gathering.
All of our caravan mats come with eyelets for tie-down purposes, enabling you to keep your mat from moving around regardless of the conditions. So whether you've got a crowd moving across your mat or a squall blowing through your site, you can have it pegged in place to keep you and your guests safe. They also come with a strong recycled polyester carry bag so when it does come time to pack up, you know where and how to stow your mat.
For more info check out our camping blog post here.
So if time in nature is your thing, you can rest assured that you're using a product that helps protect the very thing you're enjoying! Our mats are made from recycled plastic that is sourced from food containers, medicine bottles and shopping bags, repurposing landfill waste into practical and stylish camping accessories. Taking it one step further, we're also planning to offer a closed-loop recycling service which you can learn more about here
And we have a few ways in which you can support nature-based charities too! Part of the proceeds from the sales of our gorgeous Cockatoo Crackle mats will support the rehabilitation and release of injured (and endangered) black cocktaoos…how cool is that! Together with this, via Carbon Positive Australia, we plant a native tree for every product review we receive, please see here
Recycled Mats is not only one of Australia's leading suppliers of caravan and camping mats, we're one of the very few that offers mats depicting authentic Aboriginal designs! These lovely mats feature motifs and cultural symbols that tell a story – each one a celebration of country and everyday life. Not only will your Aboriginal mat function beautifully as outdoor or annex flooring, it might also invite the sharing of other stories and the passing on of ancient wisdom.
Finally, if you need a little help choosing which of our caravan mats is right for you, please see our size guide here