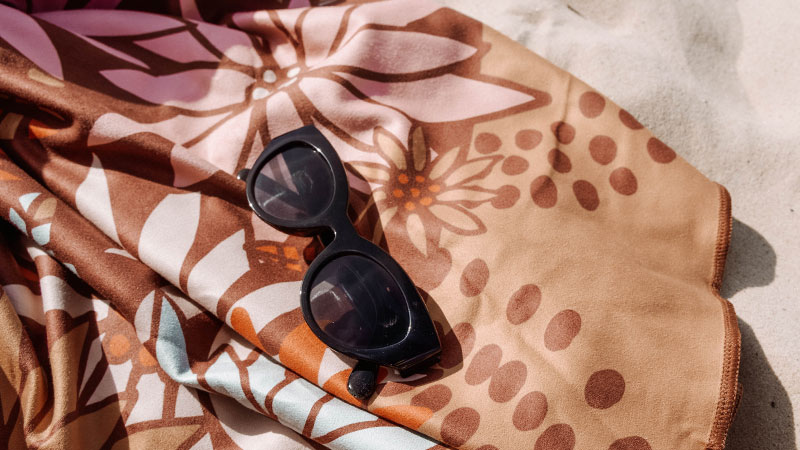 Sand Free Beach Mats & Towels
Ever wondered how you can help to clean the ocean of plastic while having fun in the sun at the beach?
With our new sand-free beach mats and towels you can do exactly that!
Taking advantage of cutting-edge technology, our sand-free beach gear is expertly crafted from recycled materials meaning it's great for the beach and even better for the planet.
Discarded plastic bottles are transformed into a luxurious, highly absorbent microfibre fabric that not only repels sand but dries in half the time of a regular towel or mat, leaving it smelling fresher for longer.
Sand-free also means less itch, less scratch and less sand to clean up out of your car - and together with less plastic rubbish harming our precious marine environment, that makes for a really good day out!
Check out our vibrant, nature-inspired sand free beach mat and towel range below...
What's Special about our Sand Free Beach Mats & Towels?
The Fabric
This ultra-soft microfibre fabric is made from 80% discarded plastic bottles which have been transformed into polyester through an innovative 5 step process. Simply put:
Bottles are collected, washed, chopped and melted to form small chips.

The chips are then melted into a thick syrup-y liquid and extruded (fancy word for squeezed) through a fine spinneret – a bit like using a piping bag to ice a cake.

This creates continuous fibres which are spun to make polyester threads.

The threads are then woven together with nylon to ensure extra softness and durability.

Finally, the fabric is printed and edged to form our functional, earth-loving, sand-free beach towels.
And not only are the sand fre beach mats and towels resistant to sand but super soft and highly absorbent, soaking up double their weight in water! But that's not all - this ingenious fabric is both UPF50+ and dries in half the time of a regular beach towel meaning no more stinky, damp towel in the bottom of your beach bag.
The Designs
Inspired by the beauty of our natural environment, you'll be spoilt for choice with a stunning range of designs either created in-house by the Recycled Mats team – like Flashback, Margarita or Autumn Rainbows – or prints of actual photos taken on the spectacular Ningaloo Reef in WA - see Whale Shark, Turquoise Bay and Leopard Shark. And what about Beach Days for the kids…happy days!
Added Extras
Weighing in at just 350gm, there's no question that our sand-free towels really punch above their weight when it comes to functionality and style. They're also extremely compact and fold down small enough to fit into a backpack or small beach bag…even the glove box of the car! And to make storage easier, we've included a cute drawstring carry bag, in the same recycled polyester fabric.
In addition to this, Autumn Rainbows, Beach Days, Flashback, Margarita, Safari Dreaming and Wild Cockatoos include a hidden zip pocket for stashing away your car keys and phone so when you head down to the water, you can tuck them out of sight, keeping them safe and sand-free…how clever is that?! This handy feature has also been added to our sand free beach mat range.
With a non-toxic and effective anti-microbial treatment added to the fabric, you can also rest assured that your new towel or mat won't mould or harbour any nasty bacteria. This not only protects you and any other sneaky towel users but helps to keep the fabric smelling fresher for longer. Gone are the days of smelly towels and mats!
And your sand free beach towel is not just for the beach. Why not use it as a workout towel in the gym, as a topper on your yoga mat during a Bikram class or as a regular shower towel next time you go camping and carvanning with friends? The Wild Cockatoos or Safari Dreaming towels would also look fabulous spread out for extra seating at your bush campsite. Pair them with one of our recycled plastic mats and a couple of giant cushions and you'd have the ultimate outdoor set-up!
Two looks for the price of one is a given too with different but complementary designs on each side of the towel. Our clever in-house design team has created a knockout range of sand free towels in a beautiful array of motifs and colours, and together with our marine life collection, there's sure to be something for every one and every outdoor adventure. Flip your towel over for a different look each time you use it or work out on one side and wipe down with the other.
Care Instructions
Looking after your sand free beach towels and mats couldn't be easier. When it comes time for a wash, simply toss them in the machine on a cold or warm, regular cycle and once done, hanging on the line to dry. They'll dry super quickly so will be ready to pack away in no time.
Every towel and mat also includes a handy hanging strap so if space is limited, you can easily leave them out to dry on the handle of a door or branch of a nearby tree.
Final Word
Multi-purpose, packed with extra features, uber-stylish, reversible, lightweight, fast-drying, super-absorbent, eco-friendly and sand-free!! Seriously, what more could you ask for in a sand free beach mat or towel?!
Order yours now or gift one to someone special – we offer both a free gift card service, 24 hr dispatch and flat rate shipping Australia wide.