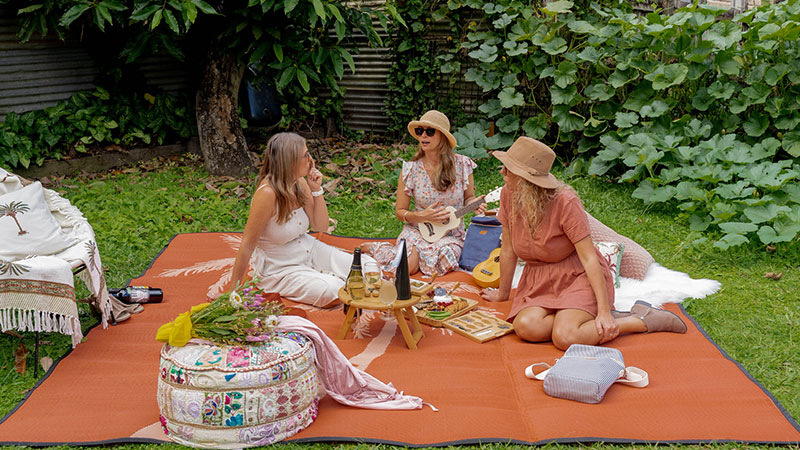 Picnic
Grab your picnic mat, fill a basket with your favourite treats and head outdoors to create lifelong memories with the ones you love. Or simply enjoy the blissful peace of your own thoughts and a good book.
There's never been a better time to adventure out into our very own backyard, whether it be at the local park or foreshore, on a remote secluded beach or deep in the heart of the Australian bush.
However you like to enjoy the outdoors, we're blessed with thousands of amazing places to explore so you'll never be short of somewhere to set up your next picnic, in amongst the wonders of nature.
Together with our extensive range of recycled plastic mats, check out our picnic accessories below for everything you need to get the ultimate picnic sorted.
Here at Recycled Mats, we're really big fans of the picnic. From a picnic for one on the back patio to a mega gathering of family and friends, nothing compares to enjoying the company of loved ones in the great outdoors. Whether it's something as simple and low-key as coffee and cake in the sunshine or an all-out night-time feast by the campfire, we've got the gear to get your next picnic adventure sorted!
The How-To for the Ultimate Picnic
You don't need a big crowd to have a full heart and any occasion can be made special with a bit of thought and a whole lotta love. Just a few of the basics is all you need on-hand to be ready to enjoy a picnic at a moment's notice. Here's the Recycled Mats go-to guide to Picnic Perfection!
The Mat: Starting from the ground up, one of our recycled plastic mats is the ultimate outdoors seating solution. UV treated, lightweight, waterproof and mould resistant, they're super easy to clean and just as quick to dry. Soft and comfortable underfoot, their tight weave will not only protect the ground underneath, they'll also look after delicate little feet when outside in the bush or spread out on the hot sand.
Sand and water will work their way through your mat while it also serves as a barrier against stones, itchy grass and insects - at the same time, allowing the circulation of air… so both foot and grass-friendly! They're also reversible which not only gives you two design options (for the price of one) but helps to extend the longevity of your mat.
If your choice of picnic location is under the caravan awning or somewhere exposed to the wind, the larger annexe mats come with eyelets for tie-down purposes... but they're also an option on all other mats, as are umbrella eyelets for those days when sun protection is called for.
Featuring a large selection of modern and cultural designs, you now have the perfect way to introduce comfort, colour and style to your picnic spot wherever that may be. And our recycled mats come in a huge variety of colour combinations, sizes and shapes so we truly have something for every space and everyone, kids included!
If you'd prefer something more akin to a picnic blanket how about one of our fabulous sand free mats? The ultra-soft microfibre fabric is made from 80% discarded plastic bottles which have been transformed into an eco-friendly polyester utilising innovative, cutting edge technology. And not only are these mats resistant to sand but also highly absorbent, soaking up double their weight in water! But that's not all - this ingenious fabric is both UPF50+ and dries in half the time of a regular picnic mat meaning no more smelly, damp mat in the boot of the car.
And don't forget, if you're wanting to create a luxurious boho picnic setting, you can always opt for an indoor rug to set the mood. Glamour picnics are definitely on-trend for hens lunches, birthdays, baby and bridal showers.
The Table: Keep your food off the ground and your drinks standing upright! We have a great range of picnic tables made from eco-friendly bamboo, hardwood, pine or reclaimed timber. Lightweight and portable, our table range offers all sorts of solutions with options for two stemmed glasses or four, bottle holder or not, foldable tables, push in picnic stakes and the deluxe picnic set with utensils and serving dishes included.
And how lovely if you could adorn your table with some subdued table lighting. Look no further than our locally made, hand-poured candles. Each candle is made using pure non-toxic soy wax, with only the best quality fragrances and essential oils and come in a handy screw-top travel tin. With a burn time of up to 25 hours, you'll get to enjoy your candle for more than just a few picnic gatherings.
The Seating: Our beanbags and giant cushions make the perfect seating at any picnic or outdoor event. With a large selection to choose from and made from durable poly canvas, they're ideal for sitting on and lounging against. Fill them with your choice of recyclable materials - old clothing, clean rags or Biofill, a sustainable filling that is made from natural cornstarch so is both compostable and lightweight.
For the Drinks: To transport bottles safely and to keep them cold, we now offer a lovely range of beer and wine coolers, together with 2 bottle cooler bags. And you're not limited to just carrying drink bottles in them. They're also handy for transporting sauce bottles to a bbq or picnic, or a baby bottle to your next Mums and Bubs meet-up, even a stack of cold apples to the beach!
For the Flies and Mozzies: Uninvited flying guests can really put a damper on a fun picnic, distracting everyone from the conversation and causing stress and discomfort…so why risk it? With our very popular and clever Shooaways you can safely keep flies off your food and out of your drink without the need for nets or toxic sprays. Lightweight, portable and cord free they're an awesome addition to your picnic arsenal.
As are our Crochead mozzie coils! Australian made from high-grade stainless steel, these little beauties secure any sized piece of mozzie coil and can be positioned standing up, lying down, hanging or wedged into the sand. Use together with non-toxic citronella coils would be our recommendation.
Carrying It All: So how do you get all of this easily and safely transported to your next picnic? In one of our tote bags of course! Made from eco-friendly, durable calico, our bags also come with a strong double-length hemp strap so easy to sling into the car or over your shoulder.
See here for more picnic inspo!