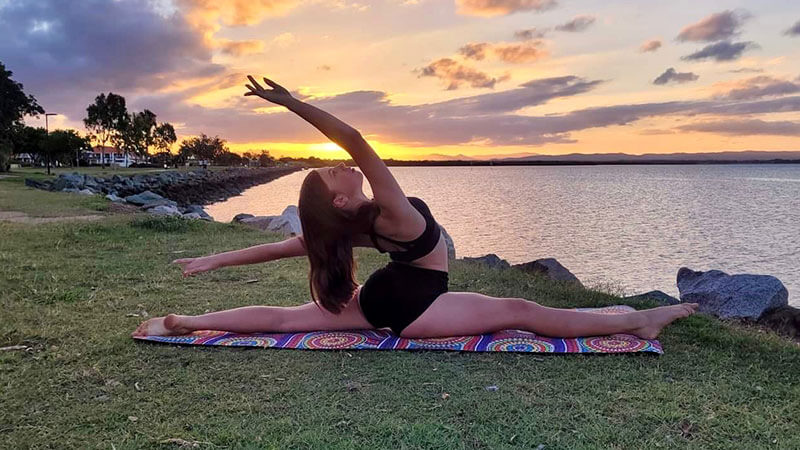 ECO YOGA MATS & ACCESSORIES
You, your eco yoga mat and a little inspiration are all it takes to unleash your inner yogi and bring with it a long list of proven health benefits that yoga devotees across the world have enjoyed for more than 5000 years.
Whether you've never set foot in a yoga studio before or have been practising this ancient form of exercise for decades, our mats are suited to yogis of all ages and any level of experience. Our extensive range includes both adult and child-sized mats, as well as circular meditation mats in a stunning range of designs and colour options.
Free from heavy metals, phthalates, BPAs, silicone and toxic glues, the rubber used in our yoga mats is not only eco-friendly but also hard wearing and moisture resistant.
Combined with either natural cork, renewable hemp or an innovative micro-fibre topper (sourced from recycled plastic bottles), you'll enjoy an enhanced sense of inner peace knowing that your yoga and meditation practice benefits not only body, mind and spirit but is also easy on the environment.
And our mats are soft on the joints too at a generous 4mm thickness for meditation mats and 5mm for the yoga mats, all coming with a free hemp carry strap.
See below for more details.
Why Choose a Recycled Mats' Eco Yoga Mat
Not only is Recycled Mats an Australian-owned and operated business, we're also Australia's leading retailer of recycled plastic outdoor mats of both contemporary and Aboriginal designs. And we've been doing this for a while. What started out in 2009 as a small side business at home driven by the passions of just one person - read more here - Recycled Mats has evolved to a staff of 10, operating from an impressive showroom and warehouse in Tweed Heads, NSW.
We offer an extensive product range that includes our popular recycled plastic mats, environmentally friendly indoor rugs and homewares, camping and picnic accessories, and now eco yoga mats!
With our considerable experience in manufacturing high-quality, durable and stylish floor mats, it made good sense to put that expertise into producing a diverse range of eco friendly yoga mats that would suit all forms of yoga, as well as pilates and meditation practices. You can rest assured knowing that due care and attention has gone into offering you a collection of mats that come in a stunning array of colour and design options.
The Range
Naturally sourced, the rubber used for the base of our mats contains no silicone, toxic glue, phthalates or PVC and unlike other synthetic rubber or foam, it's not only sturdy but also resistant to bacteria and mould so a wise choice for those with allergies and sensitivities.
The rubber base is bonded with one of 3 different, eco-friendly materials to form the topper of each yoga mat:
HEMP has been farmed for centuries and is renowned for its anti-microbial, hypo-allergenic and moisture wicking properties. It's an incredibly durable material and is considered one of our most sustainable and renewable agricultural products. Ideal for an eco yoga mat being used in any setting.
CORK is harvested from the bark of cork oaks, once every nine years. This doesn't harm the tree and the bark regrows for future harvests. During the production of cork, nothing is wasted so it's a perfectly viable process. Also anti-microbial, cork is highly water-resistant making it a great choice for heated yoga.
MICROFIBRE is also ideal for a great all-rounder eco mat. Our suede-like microfibre not only feels good, it does good too. Made from recycled plastic water bottles, you'll be doing your bit to reduce the plastic waste that ends up in landfills and our oceans. Soft underfoot with great grip, it's a good choice for beginners.
With over 30 adult-sized eco yoga mats to choose from and an adorable kids-sized range, there's sure to be one to suit your personal taste and needs...or that special person in your life!
To complete your yoga practice or studio set-up, we also offer a range of yoga blocks, carry bags and straps.
Each yoga block begins as a pair of thongs on someone's feet which after being discarded, usually ends up in the ocean. Once washed ashore, they are collected, cleaned, compressed, carved and revived into yoga blocks. Through this process, oceans are cleaned, jobs are provided, and we get to enjoy something practical and unique. So you'll not only be supporting yourself during those challenging poses, you'll be supporting Mother Earth too.
We also carry a range of cute yoga mat bags, each one block printed by hand onto organic cotton by skilled artisans in India. These practical bags are large enough to carry a few essentials – keys, phone, wallet - together with your mat so you can take your yoga with you, wherever the path might lead!
Each of our yoga and meditation mats comes with a free yoga strap but we do offer spares if needed. Not only are they made from earth-loving hemp, they also double as a stretching strap for limbering up those tight ligaments and joints, or assist you in holding and deepening into a pose.
Authentic Aboriginal and In-House Designs
All of our Aboriginal Mats are authentically designed by Indigenous artists. Each of the Aboriginal yoga mats in this beautiful collection, tells a unique story: a story about the artist, their culture, and the inspiration they find in their everyday life. By working directly with our artists, we ensure that they are not only fairly remunerated but also highly respected and valued for their work. Please read more here.
The clever Recycled Mats in-house design team has also created a range of stunning designs, expertly captured on some of our adults and kids yoga mats. To learn more about choosing the right eco yoga mat for you, please read our blog post.