Are Recycled Mats Ethical Mats? Who Designs Them? Who Makes Them? Who Benefits? We Answer Your FAQs!
Date Posted:16 November 2016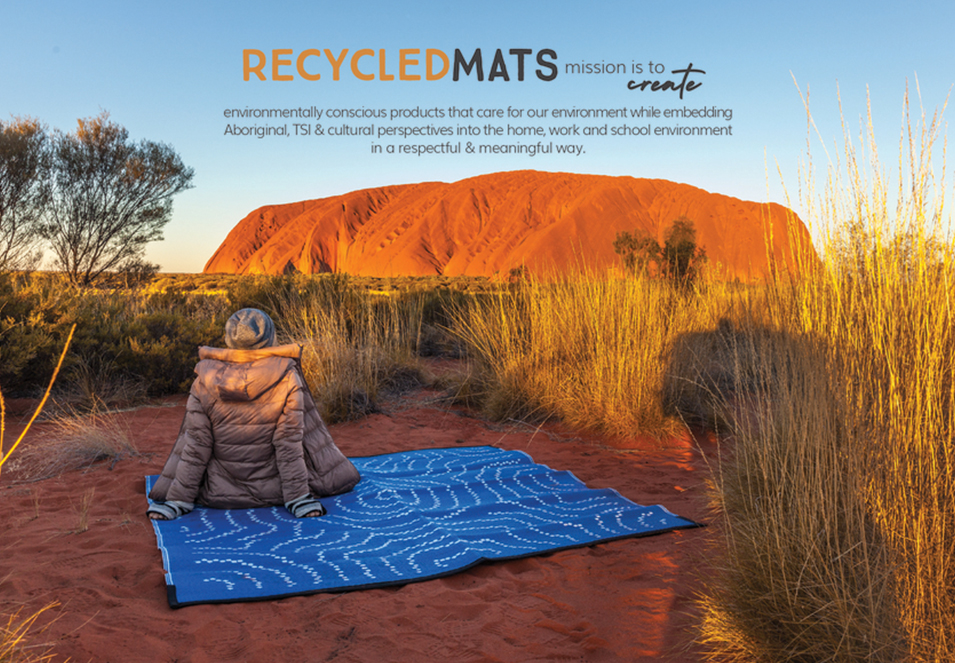 At Recycled Mats, we talk a lot about making ethical mats. Our core business is stocking a range of comfy, practical mats that are made from repurposed materials, like car tyres and drink bottles. You CAN create stylish, funky décor without destroying the planet!
We also love to celebrate world culture via our mats. We are committed to using authentic designs that reflect community stories and values, created by artists from Australia, New Zealand, Malaysia, the Pacific Islands and India.
Naturally, this leads to lots of questions about how we source and pay for our designs. We get emails every day from conscientious clients asking why we produce some of our mats overseas, for example. Do royalties go back into Indigenous communities? Are your authentic cultural mats actually produced in faraway sweatshops? It's only natural to be skeptical in this era of unethical mass production.
We've put together some of the most commonly asked questions here. Let us explain a bit about the processes we go through to ensure our products are ethical and beneficial to artists and their communities.
Are your cultural designs authentic? YES.
Historically, there's been considerable exploitation of local artists in Australia and elsewhere. The bustling Australian tourism industry, for example, creates an interest in souvenir boomerangs, didgeridoos, tea towels and t-shirts emblazoned with Australian Indigenous artworks. In the past, many of these artworks were either:
- reproductions of an original artwork, for which the artist was never paid, or
- 'pretend' Indigenous art, created by someone in a factory with no connection to Indigenous communities.
It is clearly unfair for a working artist to be denied payment for their creative efforts. What's more, appropriating Indigenous art can result in widespread sharing of an image that is sacred or meant for viewing by specific people in a community. Someone with little understanding of the complex symbolism at work in Indigenous art could easily misrepresent an important cultural message.
In recent years, activists and policy-makers have worked harder to ensure that Indigenous artists receive appropriate payments and royalties for their work.
At Recycled Mats, we work with local artists to commission designs. They are paid up front or via royalty arrangements, depending on their preferences. We promote the artists as individuals as well as the messages they wish to share via their designs. Every design is appropriate for viewing by the wider public and approved for walking or sitting on.
Our artists have diverse backgrounds and careers. Some are city-dwelling hipsters, some are rural business people. Wherever they live, their vibrant artwork reflects a complex relationship with ancestry, spirituality and country, which we're proud to showcase via Recycled Mats.
Are your artists paid fairly for their designs? YES.
We negotiate a payment arrangement with each artist as we take on their new designs – just like any other retail business. In some cases, they request a one-off payment for the rights to their design. In other cases, we may arrange an ongoing commission. We always talk to artists about their preferences and what will work out best for them. If we make pay for the rights to a rug design which turns out to be hugely popular, we will renegotiate the arrangement before we use that design on a cushion, for example.
We are proud members of the Indigenous Art Code and use their code of ethics in our business dealings with all Indigenous artists to ensure that a fair payment has been reached. Many of the artists we work with also resell their mat designs through their own businesses and channels too, thereby making an ongoing and further income from their designs.
Do local communities see any benefit from sale of your products? YES.
Our artists are paid fairly for their designs, always. Beyond that, the production of our mats also benefits the wider community.
Our products highlight an important environmental message about the benefits of recycling. Did you know that we repurpose around 1 million plastic bags per year into our recycled mats? We're very proud of that!
Our mats also give the world a taste of the amazing images, symbols and colours available through multicultural art. Our mats are very popular as classroom mats, for example, allowing children to learn about culture while they eat, read or play. In homes, offices and campsites these contemporary designs break down prejudices and melt the distinctions between 'décor' and 'educational tools' by celebrating creativity from around the world.
We work hard to keep our prices reasonable and offer bulk discounts across many products to help get the artists' messages out there to as many people as possible. We sell wholesale to many Indigenous community groups, too, who then resell our products, creating an income for themselves and their families. We often donate rugs to community groups to thank them for their business, and to help them continue the work they do in unifying and supporting local people.
In 2017, we look forward to stocking an amazing mat developed in conjunction with AIME, an Indigenous mentoring organisation. 100% of the profits of that mat design will go straight back to AIME to benefit youth mentoring programs. Watch this space!
Are your products made locally? YES AND NO
At present, our cushions, picnic tables and doormats are made in Australia. Our plastic, chindi and woollen rugs are made in China and India. You can read a longer post about exactly why we manufacture offshore here. And we are excited to soon be working in Australia using recycled Australian car tyres on a new adventure...watch this pace for more info as it comes to hand!
The short answer is that we want to keep our mats affordable and we want to meet demand. We use ethical factories overseas, which we have personally inspected, that are able to access materials, keep up with production times and create products to the high standard we expect for our clients at a reasonable cost.
Rest assured that when we started Recycled Mats, we did consider the possibility of local artists or communities producing their own mats. We quickly learned that some of our artists had no interest in weaving. They are busy creating designs for us, as well as for galleries, clothing, surfboards, tattoo parlours and a host of other products! They are very happy to work as creatives and leave someone else to specialise in making mats.
In other cases, it would have cost us millions to provide the infrastructure to a rural community for large scale mat production. We could (and sometimes do) stock one-off handmade mats, but the price for these is significantly higher, which means they're no longer an option for the likes of classrooms, libraries and community groups.
What we now offer is a compromise that benefits everyone. It allows our business to stay in business, while we do 'our bit' for artists, communities and the environment.
Are Recycled Mats ethical mats? Yes! If you have any further questions about the ways in which we commission designs, work with recycled materials and produce our mats, cushions and tables – contact us today.
---
Leave a comment