At Recycled Mats, we have a 30 Day Returns policy. Here's how it works...
Any request for a replacement or refund must be made within 30 days of the initial order. After this time, stock changes and price adjustments make it difficult for us to fairly deal with your requests.
How to request a replacement or refund
We stand behind the quality of our products. If you are not happy with your order within the first 30 days, please advise us in writing at supertroopers@recycledmats.com.au
Let us know:
Why you wish to return the product
Your order number.
If the product is faulty, please include images so that we can clearly understand your concerns. We may not require the product to be returned prior to sending out a replacement to you if the issue is clear from your photos. If we cannot resolve your issue in this way, we will request that you return the products in question so that we can examine them for faults.
Returned items MUST be in original packaging with ALL original stickers in place (see photo example below). Rugs and mats cannot have been used in any way AND must be folded along the same fold lines with which they were received. If the plastic mats are folded incorrectly or carelessly, there is a chance that undue pressure placed on the woven plastic when inserting back into the carry bags or during transit may cause damage, rendering them unsellable and therefore voiding any option for a refund or exchange. Items MUST be received by us in perfect re-sellable condition. Eligible replacement items or refunds due will not be processed until the returned item(s) has been received and reviewed by us.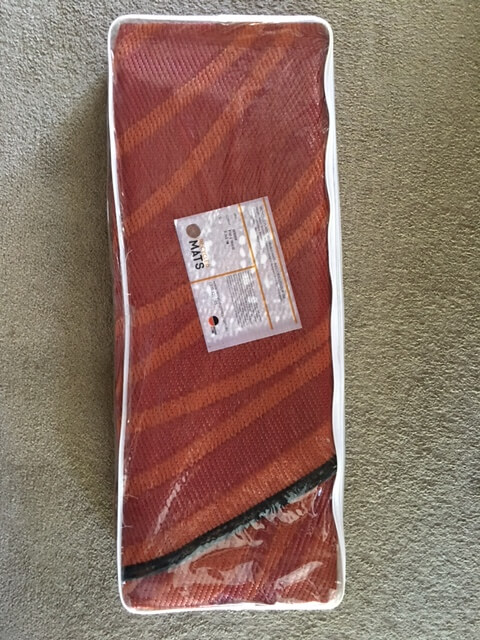 Any order of $150+ returned due to "change of mind" that is deemed eligible for a refund or exchange, will be processed with a 10% restocking fee applied.
Please read Our Blog post here to see the best way to fold your mat - we have several videos available depending on the size and shape of your mat.
If you have used the mat, damaged the mat or thrown away the labels and packaging then it is yours to keep!
Recycled Mats will not accept a return or exchange on any SALE items or purchases made using a discount voucher or code, nor on any items that have been customised by the addition of eyelets unless it is clear that the item is faulty.
Returns and postage costs
If you simply change your mind about a product, we are happy to discuss an exchange but please note that return postage costs are your responsibility.
If we have agreed to provide a refund or exchange, a postage cost of whatever cost you initally paid** will be deducted from the refund or credit amount. Please note that refunds can only be paid into the same account that was used for the initial order.
(** the postage cost for oversized items that are sent by courier will be as per the shipping charge on the order invoice)
Recycled Mats cannot be held liable for damage to or the loss of items being returned. We recommend using a registered post service to return your goods so that tracking can be used. We encourage you to keep a record of the tracking advice until the return has been received, accepted and processed by our warehouse.
We have clear instructions that do need to be followed for all returns so that we can ensure they are processed in a correct and timely manner. Please note: For returns to be processed effectively, you must clearly label the return package with the original order #. Kindly email supertroopers@recycledmats.com.au or call us on 1300 32 00 65 should you have any questions about this.
If you do not do this then we cannot track your return and a refund will not be granted. Please understand that we send and receive thousands of items weekly, so we need you to follow this process otherwise we have no way of confirming your return was received. Clear documentation benefits our processing staff and you!
We love our products and we want you to love them too. Contact us anytime to discuss your feedback or concerns.