Welcome to Recycled Mats, Australian owned and operated
At Recycled Mats, we have a 30 Day Returns policy.
Here's how it works...
Any request for a replacement / refund / store credit must be made within 30 days of the order. You MUST advise us of your request PRIOR to sending the item back.
CHANGE OF MIND RETURNS
Advise Recycled Mats that a return is requested within 30 days of the order being placed.
Item is to be new and not used, worn, or opened and have all original packaging and tags intact.
Item is in a resaleable condition.
Item is not damaged in any way and returned exactly how it was sent. Please see videos for our mat folding instructions
Change of mind is not accepted on any mats that have had optional eyelets added in at your request as this deems the mat as customized and is not-resaleable.
Returns or refunds are not accepted for yoga or meditation mats due to hygiene concerns.
You will be responsible for the cost and risk of returning goods, including the cost of return shipping. If the item is not received by us, you will not be eligible for a credit or exchange. We recommend that you insure high-value items that you return and at the very least, track your item through your choice of carrier.
You may be provided with a product exchange, refund or store credit (at our discretion) only when the returned product is received, and it complies with our returns policy. If the returned item does not meet the conditions of this policy, you will be responsible for the cost of receiving your returned goods back to your nominated address.
Any order of $150+ returned due to "change of mind" that is deemed eligible for a refund or exchange, will be processed with a 10% restocking fee applied which covers unretrievable costs incurred.
Please note that product colours can show differently on different electronic devices. A return based on a colour differentiation will be classified a Change of Mind return.
DAMAGED / FAULTY GOODS
Please note that minor loose threads or short threads are normal and are NOT a manufacturer's defect and do not / will not compromise the product in any way. Recycled plastic mats maybe +\~ 5% in size from the size advertised.
Most loose threads can be snipped off or tucked into the weave. If you have concerns, please send us an image along with your order number to supertroopers@recycledmats.com.au so that we can advise.
HOW TO ADVISE US OF AN ISSUE/ FAULT/ DAMAGED ITEM:
Let us know by emailing supertroopers@recycledmats.com.au (including the order number) within 30 days of placing the order.
Please include CLEAR images of any area of concern so that we can understand the issue.
Note that yoga mats maybe best to have a spray of water and vinegar on them at the start of use to help them bed into practice from being a new product. Returns or refunds will not be approved for yoga or meditation mats due to hygiene concerns
If an item has been agreed to be returned to us:
Returned items MUST be in original packaging with ALL original stickers in place (see photo example below).
Rugs and mats cannot have been used in any way AND Recycled Plastic Mats must be folded along the same fold lines with which they were received. Please view our folding videos here.
If the plastic mats are folded incorrectly or carelessly, there is a chance during transit that damage may occur, rendering them unsellable and therefore voiding any option for a refund or exchange.
For returns to be processed effectively, you must clearly label the return package with the original order #.
If the item is requested to be returned to us and if the item is not received, you will not be eligible for a refund or replacement. If we have provided you with a REPLY PAID account then this is trackable. If you are sending it yourself, we recommend tracking the item with your carrier to ensure that the item makes it back to us. (It is estimated that approx 1% of parcels are lost in transit by providers).
Eligible replacement items or refunds due will not be processed until the returned item (s) has been received and reviewed by us.
Refunds are processed weekly from HQ.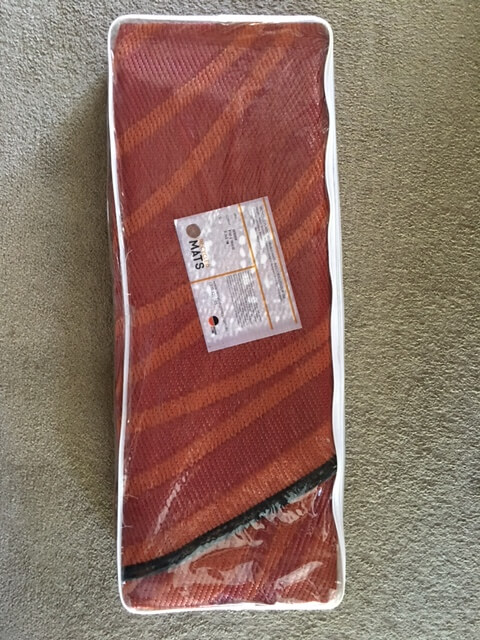 Recycled Mats will not accept a return or exchange on any SALE items or purchases made using a discount voucher, coupon or code, nor on any items that have been customized by the addition of eyelets unless it is clear that the item is faulty.
RETURNS & POSTAGE COSTS
If you simply change your mind about a product, we are happy to discuss an exchange but please note that return postage costs are your responsibility.
If we have agreed to provide a refund for "Change of Mind", the postage cost of whatever you initially paid** will be deducted from the refund or credit amount. Please note that refunds can only be paid into the same account that was used for the initial order.
(** the postage cost for items that are sent by courier will be as per the shipping charge on the order invoice)
UNDELIVERABLE ORDERS
Please note that if you have provided us with an INCORRECT or UNDELIVERABLE address (as deemed by the carrier) for your order and it is returned to us, in order for us to re-ship your items to you, you must supply us with an address that our choice of carrier (usually Auspost) will deliver to.
Also, if return-to-sender fees have been incurred by the return of the order to us, then these are to be paid by you plus the cost of the return shipment and the re-shipment of items back to your newly nominated address.
These return and re-shipment costs will be calculated on actual costs and be a minimum of $19.95 per parcel (note that we subsidise freight costs 90% of the time).
If Recycled Mats have made the mistake then we will cover ALL costs to get the package re-sent to you promptly.
We love our products and we want you to love them too. Contact us anytime to discuss your feedback or concerns.