De Greer Yindimincarlie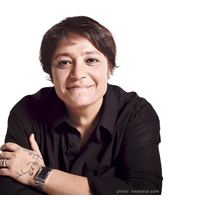 Wiradjuri Nation, New South Wales - Designer of the following mat designs; Tracks, Emu & Kangaroo Tracks, Yarning Circle, Gatherings & Journey's and graphic designer of Uncle Barry's Walkabout Game.
Designer of Emu & Kangaroo Tracks, Journeys, Gatherings, Tracks, Yarning Circle, Little Black Card Game & the Educational Mat sets in three designs: Tools; Animals and Necessities; and People
Recycled Mats is honoured to have collaborated with De since 2009
De Greer-Yindimincarlie is an Aboriginal woman from the Wiradjuri Nation in Central Western NSW and is the owner/operator of Yindi Artz - Authentic Aboriginal Creations which after operating on the Sunshine Coast for 10 years, is now located in Adelaide.
She is an accomplished artist, winning the 2008 South East QLD NAIDOC award for distinguished services in the Visual Arts Industry and in both 2011 and 2013, was a 'DEADLY AWARD' nominee for 'Visual Artist of the year'.
De is recognised both nationally and internationally for her exciting and innovative works. Awarded not only for her painting, she is also celebrated as an Aboriginal artist, musician, graphic artist, filmmaker, music producer, talent manager and entrepreneur.
To learn more about De and view her work, visit http://www.yindiartz.com.au
---
Leave a comment