Turumakina Duley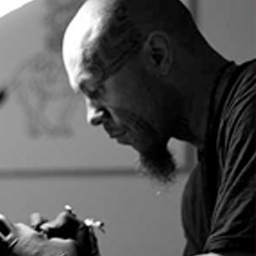 Tuhoe, Ngaiterangi, Ngati Awa - Designer of the Mangopare, & Korero designs
Designer of Mangopare & Korero - Working with Recycled Mats since 2011
Tu has been practising the art of Ta Moko since 1994. He was fortunate enough to sit under the tutelage of Mark Kopua from Tolaga Bay who has been, and will always be one of Tu's great mentors.
For Tu, moko is a gift. Tu thinks that any bodily marking that holds personal meaning, whether it be about family, your ancestors, your links to land or your forefathers, whether it is spiritual or commemorative in nature, then that tattoo has a personal meaning and value to you and that you will never regret the indelible marking of your skin.
To learn more Tu and view his work, visit his website www.artselemental.com/
---
Comments (2)
Beautiful sharing!

By:

Marina

on 14 September 2017

What a beautiful authentic and deep heart felt sharing from Tu and Ify living their love and truth and sharing it through their art and recycling to help clean and heal this beautiful Mother Earth. Its so refreshing just to be able to connect , in a sense personally with the artists themselves, for me it creates deeper connection love and understanding for what they and all artists like them share. Blessed be and thanks for making and sharing this wonderful video! <3
---
Inspiration.

By:

Vanessa Apimaera

on 14 September 2017

Luv yr mihi omg uz both are gr8 ARTIST'S heres 2 a gr8 Future..... x x Arohanui, Adelaide South Australia.
---
Leave a comment