Announcing the 2018 Commonwealth Games x Recycled Mats Collaboration


Exciting News for JJ and Recycled Mats!
The Team at Recycled Mats are so proud of JJ, who has been invited to create, supply and install a range of recycled mats and rugs, along with custom designed PODS and picnic tables for the Commonwealth Games Gold Coast 2018.
2018 Commonwealth Games Gold Coast Collaboration

Commonwealth Games 2018 Venue Decor
These recycled mats, and cocoon pods will decorate the Games chill out zones, elders areas and child activity areas.
We can see that people aren't going to want to leave these cosy zones, especially with our favourite pods in place. These cloud-soft pod cocoon chairs are the best chair we've ever met.
Venues will include the Gold Coast City Aquatic Centre, Broadwater Parklands, and the Gold Coast Convention and Exhibition Centre.
Athletes will be housed at the Athletes Village at Parklands, while most visitors to the coast have booked up all the accommodation in Surfers Paradise and Broadbeach.
The new extension of the Gold Coast Light Rail will open from Helensvale, and continue along the current track to Broadbeach, lightening the load on Gold Coast roads during the Commonwealth Games Gold Coast edition.
What a thrill it will be for all of us at Recycled Mats to see our artists featured in such a way. We are thrilled that Aboriginal Indigenous Culture and artwork will have a chance to be on display so publicly . As you can imagine, JJ is so honoured to have been asked, and we are now busy preparing for this massive endeavour.
JJ, on behalf of Recycled Mats, will stand proudly as a part of the 2018 Commonwealth Games Inner Circle for the Opening & Closing ceremonies.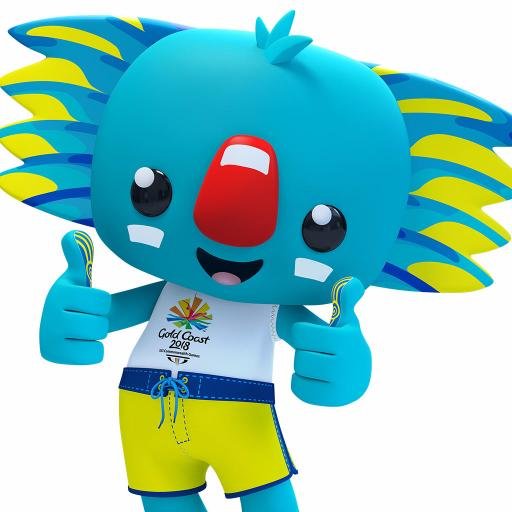 Have you met the Commonwealth Games mascot 2018 yet? Introducing Borobi!
The Commonwealth Games Mascot 2018 is a Koala named Borobi, and the markings on his paws are also of Aboriginal design.
We love that the team behind the Commonwealth Games Gold Coast are so supportive of Indigenous culture and are striving to be inclusive in many ways.
Commonwealth Games History
The Commonwealth Games history is extensive, with the first Commonwealth Games held in Hamilton, Canada in 1930, with other 400 athletes from 11 countries competing in six sports and 59 events.
The Commonwealth Games have been held every four years since except during World War II, and has had four name changes!
Only the countries from the Commonwealth of Nations compete, which is why there is no team from the USA.
It will be the fifth time Australia has hosted the event. There are 70 nations that will be competing.
Commonwealth Games Sports at the Gold Coast 2018 Event
Sports at the Commonwealth Games 2018 include:
diving
swimming
athletics
gymnastics
lawn bowls
cycling
boxing
beach volleyball
basketball
badminton
squash
table tennis
weightlifting
netball
the Rugby 7's
wrestling,
and hockey.
It's going to be SUCH fun! Have you booked tickets yet?

Commonwealth Games 2018
See you there, and remember to look out for our specially designed products!
---
Leave a comment