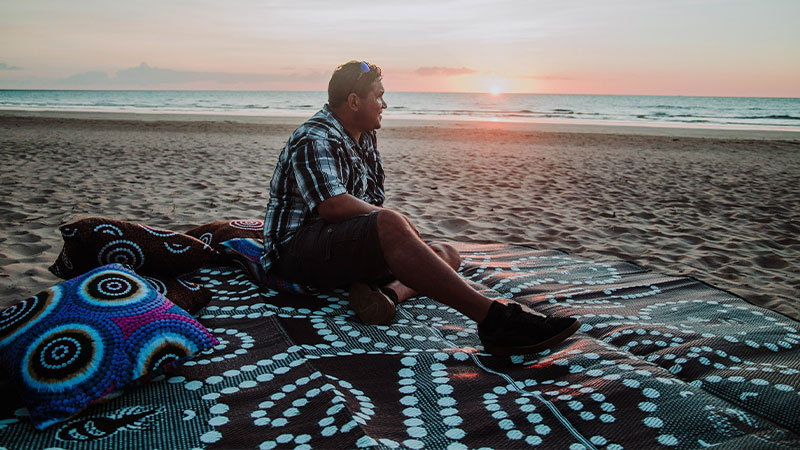 Aboriginal & Torres Strait Island Mats
Our Aboriginal Mats are a celebration of rich Aboriginal culture, clean environment and beautiful spaces. With colour, sophisticated textures/patterns and fun educational motifs, these cosy mats add life and vigour to any space. All pieces are authentically designed by Indigenous artists with a deep understanding of their own cultures, to celebrate, preserve and cherish this rich heritage. Recycled Mats has been a proud long-term member of the Indigenous Art Code since 2013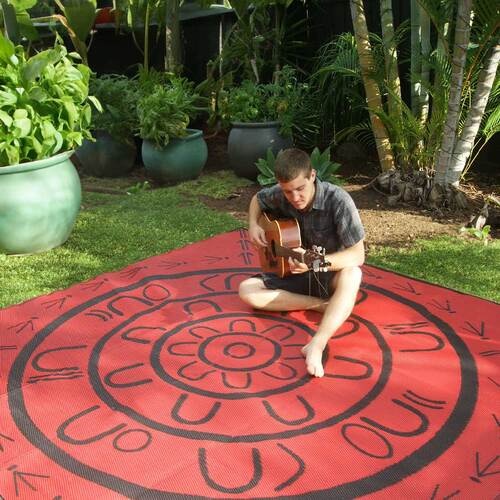 Aboriginal Design Recycled Mat, Orange & Black
$135.95
9% OFF RRP $149.95

Aboriginal Design Recycled Mat, Blue & White
$85.95
4% OFF RRP $89.95
Truly Authentic Aboriginal Design Mats
All our Aboriginal Mats are authentically designed by indigenous artists. We work directly with indigenous artists who not only understand the aboriginal culture, but also practice it and best represent it. This is well represented in each aboriginal mat you purchase from us – it tells a story. A story about the artist, the culture and a celebration of life. By working directly with our artists, we ensure that all artists are not only fairly compensated financially, but also highly respected and valued for their work.
Caring for the Environment with Recycled Aboriginal Mats
Our unique designs are made from 95% recycled materials like polypropylene. This makes the Aboriginal mats extremely durable and good for mother earth. Recycled Mats is at the forefront of promoting a clean healthy environment. Across all our operations, we are deeply rooted in the dual values of integrity and sustainability. In the nine years of our operation, we have removed 160 tonnes recyclable materials from landfill, rather than adding to it.
Top Quality, Highly Durable Aboriginal Mats
Our Aboriginal mats are not only good for the planet – they are of the highest quality and hard wearing. Each mat is UV treated to avoid colour fade to maintain the rich colours. They are mould resistant, washable (Can be hosed down), reversible and light weight. This makes them extremely versatile for outdoor activities, easy to roll up and transport and perfect for the harsh outdoor conditions. They are made to be thoroughly enjoyed and still retain the same level of comfort.
Our Aboriginal mats are perfectly suited for all manner of outdoor activities including; picnics, caravans, boats, as playroom mats and as educational tools. They are beautiful, practical, culturally inspired, eco-friendly and educational. All these qualities without compromising on comfort and aesthetics. Browse through our collection.