How and where are the mats made?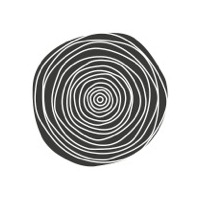 Stage 1: Design Process
Step 1: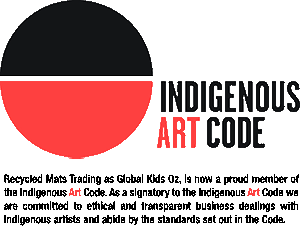 Local Indigenous designers/artists/concept creators (see our list of Indigenous artists here) are hired to create designs that can be translated into a mat design or more often than not, recently, we are approached by community to work to create community-specific designs for each community's own specific needs or to fulfill an artists desire to have one of their own designs on a product that they too can market through their own business or community.
We only work with designers who are from each culture to create each design ie all Aboriginal designs are designed by Aboriginal artists, Torres Strait designs by Torres Strait Island artists and New Zealand Maori designs by Maori artists etc ( a certificate of authenticity is included with each mat purchased)
We are also a signatory to the Indigenous Art Code and as such are committed to ethical and transparent business dealings with Indigenous artists and abide by the standards set out in the Code.
Step 2: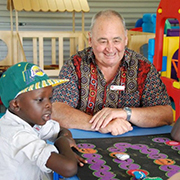 The design stage of the process can take anywhere from a few days to a few months or longer depending on the designer, the design involved and approval sought from community.
The "Walkabout" mat game designed in conjunction with Uncle Barry Watson took 18 months to complete and was a joint venture between Uncle Barry (concept creator) De Greer Yindimincarlie (graphic artist) and myself, JJ.
Step 3: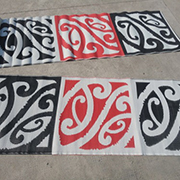 Once the design has been signed off by both artist and myself then we proceed to getting a sample mat created in one of our factories in either Australia (our recycled door mats are printed here locally), China or India (our recycled larger play mats are made in SE Asia) to ensure the concept translates well into an actual mat. To find out "Why we manufacture Offshore" then please click here
Step 4:
Once the sample mat has been produced and approved then the manufacturing process below can begin to bring the mats to market - please note that the process below relates to our recycled playmat range and not the recycled car tyre door mat range as these are manufactured using a different process (in brief the recycled car tyre material is imported from China and then printed locally in Australia using environmentally friendly colours and dyes).
Stage 2: Manufacturing Process
Step 1: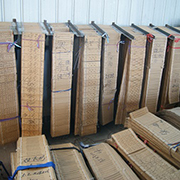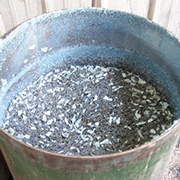 Various types of recycled plastic materials, polypropylene are collected and melted down, then cooled into a pellet form while the moulds for the mats are being created.
Step 2: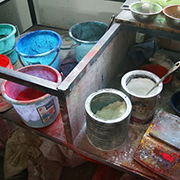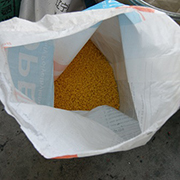 The pellets of recycled plastics and polypropylene are then mixed with the colour desired that will become the base mat colour
Step 3: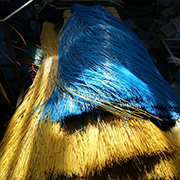 The pellets and colour are then melted together which will form the coloured liquid of the plastic tube used to weave the mat
Step 4: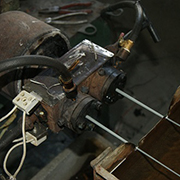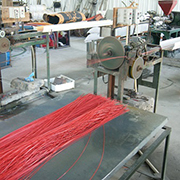 The liquid then gets fed through a tube which pushes through a water pool, this pool cools the hot plastic as it passes through and allows the plastic tube lengths to be formed
Step 5: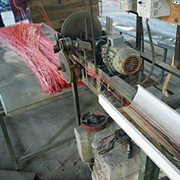 The recycled plastic tubes are then checked for colour and thickness and then taken to the machines where they are placed in several slots which will be where the machine plucks the tubes from to weave the mats
Step 6:
Each mat design has it's own board "Mould" which tells the machine the design and how many colours are to be used in the mat process
Step 7: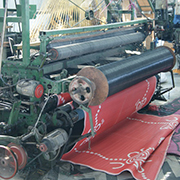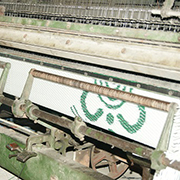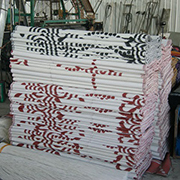 Once the mould has been loaded onto the machine then the machine can begin the mat weaving process, this stage can still be highly manual. There is a factory staff member always watching several machines at a time to ensure that each loop is thread into the loom at the correct time and place.
Step 8: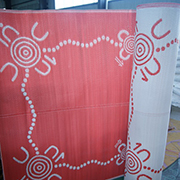 Once the mats are woven they go onto a roll of approx 200 mats at a time, they are then taken to the tables where a hot heat iron is used to cut and seal each mat end, then the black end seal is sewn onto the mat.
Step 9: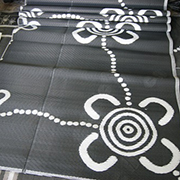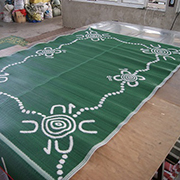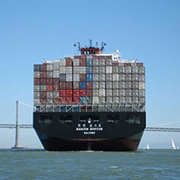 Quality control at the factory is done, with a manual look over the mat to ensure that all is in order, they are packed ready for being uploaded into a container and sent to us for the Australian retail market.
Stage 3: Distribution
Step 1: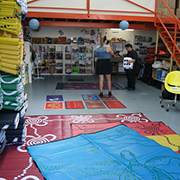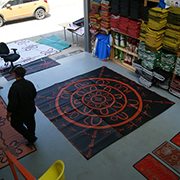 Once the mats have arrived in Brisbane at HQ, we open each box and again check for quality control (we have 2 staff, 1 Indigenous and 1 non-Indigenous staff in the warehouse)
Step 2: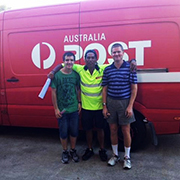 Once final QC has been completed, the mats are re-packed and are sent out to clients across the country (both retail and wholesale), which also include a variety of Indigenous community groups and businesses across Australia whom then sell the mats in local business to both Indigenous and Non-Indigenous people, schools and community groups
Australia Post is our choice of domestic courier used. We offer a standard 30 day right of return on all our mats, no specific warranty can be given for this product as it depends on how you use the mat, most schools / childcare centres are getting between 2-3 years worth of life expectancy from the mats, families are getting much longer than this. We recommend that mats are only cleaned with soapy water and a hose, no chemicals, extended direct UV sunlight will deteriorate the mat so long term sun exposure is not recommended and sharp objects are to be kept clear of the mats.
GIRL POWER: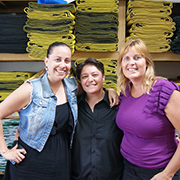 Carly Wallace from NITV, De Greer Yindimincarlie, Wiradjuri Nation designer from Yindi Artz and myself JJ Stranan, Recycled Mats and Global Kids Oz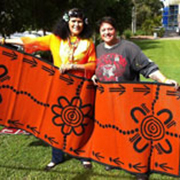 Jill from Black Swan Dreaming with designer De Greer Yindimincarlie from Yindi Atrz