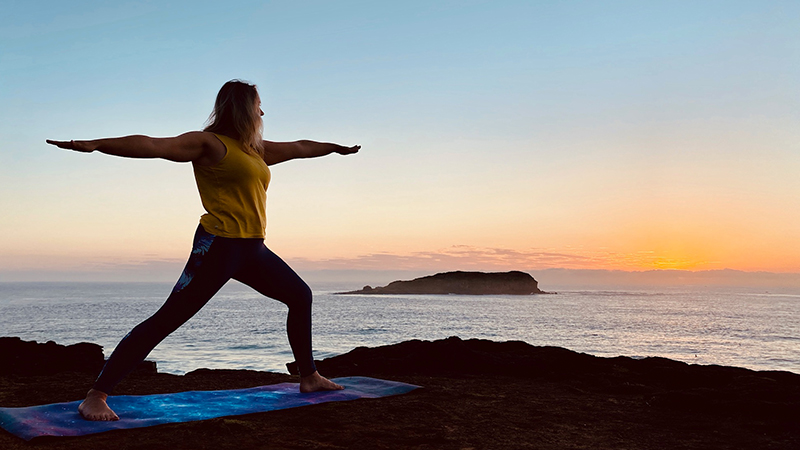 Yoga & Accessories
Yoga is one of the most effective and ancient exercise and relaxation practices in the world. It is a means to connect with your inner self, relieve stress and anxieties plus help keep the body fit and flexible. Enjoy this healthy exercise in a wholesome way by caring for the planet in the process with our environmentally friendly yoga mats.
Our quality yoga mats, yoga pants and reusable water bottles are the perfect gear for your yoga sessions and the best alternative for the environment. Made from sustainable materials, these yoga items will help you connect to your inner self and to Mother Earth.
Choose a quality yoga mat that suits your style or choice of practice, noting that each fabric type is best used for various forms of yoga practice.
DOWNLOAD our FREE YOGA CALENDAR
Sustainable Yoga Mats
Go about your yoga sessions with extra comfort and assurance on one of our sustainably-made, cushioned yoga mats. These mats each come with a handy hessian carry strap, making them easy to carry to wherever your yoga might take you.
The cork range is comprised of a high-quality cork top lining on a natural rubber yoga mat base. With its unique antimicrobial properties, these quality yoga mats are ideal for sweaty hot yoga and Bikram.
The micro-fibre range of environmentally friendly yoga mats is made of 100% biodegradable and recyclable natural rubber with a micro-fibre suede top which ensures extra grip. Naturally sourced from rubber trees, the rubber used in our mats contains no silicone, toxic glue, or other harsh chemicals and it won't retain moisture, keeping it more hygienic for longer.
And finally, our hemp yoga mats are a great option for those with allergies or environmental sensitivities. Hemp is both anti-bacterial and mould resistant, and together with natural rubber offer a sturdy yet hypoallergenic surface for your practice.