Meeting the National Quality Standards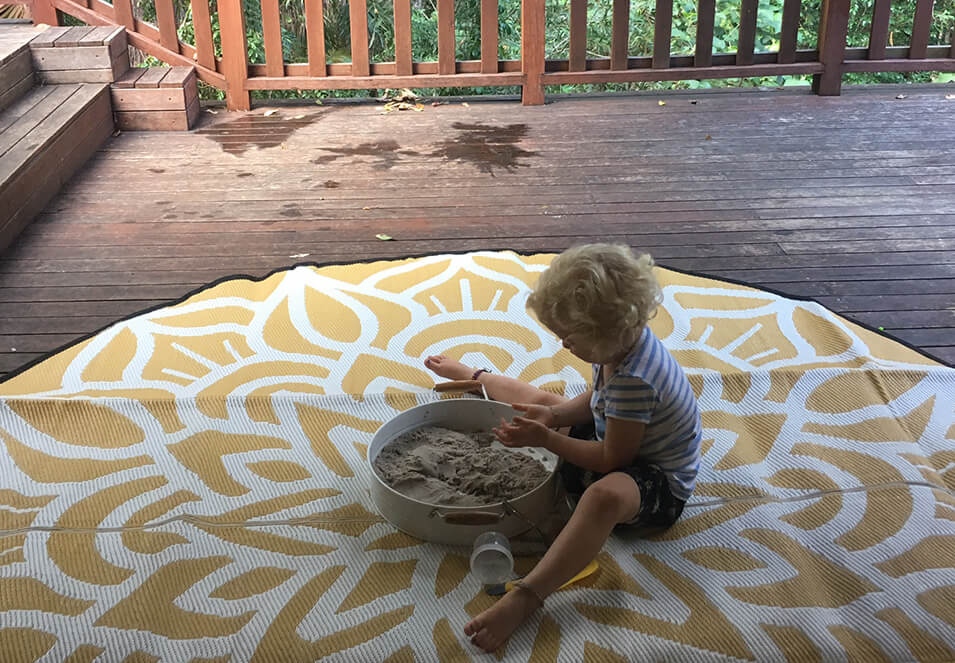 The purchase of a Recycled Plastic Aboriginal Mat can help services meet the National Quality Standards.
Exceeding the National Quality Standards
As we embrace the cooler days of Winter and rapidly head towards the end of the financial year, educators are often keen to revamp their spaces, change things around, breathe new life into their rooms, invigorate their curriculums, and ensure their sustainable practices and cultural outcomes meet or exceed the National Quality Standards.
Recycled plastic mats designed by Indigenous Aboriginal artists can be the solution for many problems educators face.

Quality Area 1: Educational Program and Practice
These recycled plastic mats feature the symbols and motifs of Aboriginal Language from different regions of Australia to encourage storytelling and community building.
Children are immersed in the motifs of Indigenous culture when they sit, sing, and play on these mats everyday, without the need for direct conversation or deliberate discussions. This will inspire their natural curiosity to learn more about the motifs and symbols and what they mean.
Using Aboriginal Mats throughout the room also enhances each child's learning and development, building on their knowledge, their cultural identity, and the cultural understanding of the broader Australian community.
The Early Years Learning Framework (EYLF) outcomes can be met by engaging children in discussion around culture, tolerance, and understanding too.

Quality Area 3: Physical Environment
Recycled Mats are a soft, pliable, all-weather alternative to traditional carpet mats, and come in circular, rectangular and square shapes to suit all kinds of learning experiences.
These gorgeous mats can be:
used to create specialised nooks and areas in the room for specific learning intentions - for example, in home corner, book corner, block areas, self directed play open spaces, outdoors for natural learning opportunities
used to provide a safe seating alternative outdoors for those children who may be sensory aware, or sensory challenged, and who do not like to sit on grass, concrete, or timber
moved around at will, giving children agency to manage and maximise their own learning opportunities appropriate to their own learning and development
suitable for all kinds of learning activities, as they are washable, pliable, and hard wearing. They can be used under art and craft tables to protect flooring and carpet, during picnics and mealtimes when food may be dropped, and during both indoor and outdoor games and learning experiences. They are the perfect equipment to show exceeding practice in a service as they allow for multiple uses, as well as being safe, clean and easily maintained.
used to promote inclusion of Indigenous understanding (and children) into the wider group

Quality Area 3: Sustainable Practices

Contribute to your goal of exceeding the National Quality Standards by employing these sustainable recycled plastic mats in your settings, both indoors and out.
Recycled mats are made from recycled polypropylene plastic, reducing landfill and making something of beauty from discarded waste. Purchase of a Recycled Plastic mat shows the service cares for the environment and supports children to become environmentally responsible.
Recycled plastic mats are easy to clean so they are the ideal indoor and outdoor rug in childcare centres and preschools. Hang them over a fence to hose off excess food, scraps or paint. You can also shake them or sweep them down. Mats are reversible too, so after washing, turn them over for a fresh new look and style in the classroom space. It's an instant revamp!

Quality Area 6: Collaborative Partnerships with Families and Communities
Recycled Mats can be incorporated as part of the educator's Intentional Teaching Moments in the day.
Recycled Mats are a wonderful talking point to encourage discussion about Indigenous culture, and a starting point to learn Aboriginal history and practices. They can be used to develop collaborative partnerships with families and communities, as parents have a visual representation of the importance of Indigenous culture along with the children. Discussions of art and culture help to build understanding and tolerance, as well as help children find shared identities and common ground.
When Indigenous parents see an Aboriginal design mat being used as part of the daily routine in the centre, they are empowered and know that the expertise, culture, values and beliefs of their family are respected by the centre too. This is how the service can build relationships with their families and engage with its' community too.
Recycled Mats can help in so many ways
Visit Recycled Mats to see the full range of Aboriginal Mats we have in stock, in all shapes, sizes, colours and designs. We stock classroom mats for everyone.
---
Leave a comment