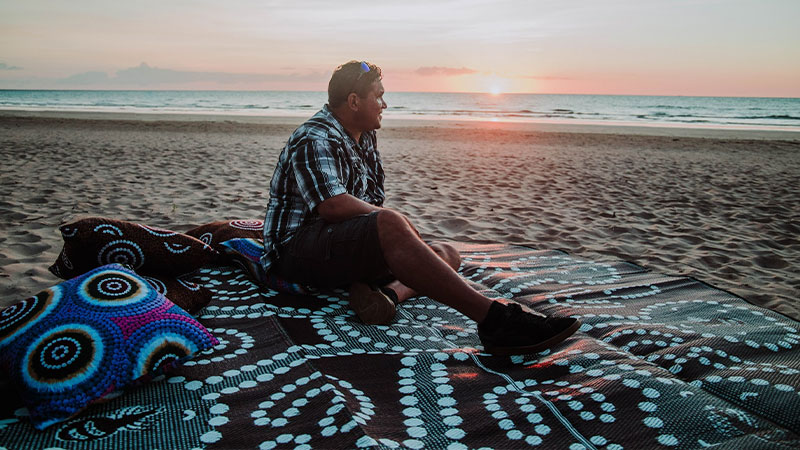 Aboriginal & Tiwi Mats
Our range of Aboriginal and Tiwi Island Mats is a celebration of rich Aboriginal culture and beautiful spaces. With lively colour, sophisticated patterns and fun educational motifs, these practical and stylish mats will add vibrance to any space.
Each piece is authentically designed by one of a team of Indigenous artists who not only have a deep understanding of their own culture but also join us in preserving and cherishing their stories, wisdom and rich heritage.
Recycled Mats is a non-Indigenous family owned and operated business working alongside Indigenous artists helping to bridge the gap and provide ongoing employment to Indigenous artists, based in Tweed Heads, NSW
Truly Authentic Aboriginal Design Mats
All of our Aboriginal Mats are authentically designed by Indigenous artists. We work directly with each artist to create products that tell a genuine story - a story about them, their daily lives, and their interactions with community and country. By working directly with our artists, we ensure that not only are they fairly compensated financially but also highly respected and valued for their work.
Our Aboriginal & TSI artists receive 10% royalties on the sale of every item that features one of their designs.
Caring for the Environment with Recycled Aboriginal Mats
Our unique mats are comprised of recycled materials like polypropylene, making them both durable and protective of our precious plant. Recycled Mats is at the forefront of promoting not only fair and equitable work conditions but also a clean healthy environment. Across all of our operations, we are deeply rooted in the dual values of integrity and sustainability. Since our inception, we've removed hundreds of tonnes of recyclable materials from landfills, re-purposing them into beautiful and functional items suited to the home, office or school environment.
Top Quality, Highly Durable Aboriginal Mats
Our Aboriginal mats are not only good for the planet, they're also made to exacting standards and are therefore robust and long-lasting. Each mat is UV treated to resist fading, is mould resistant, washable (can be swept and/or hosed down), reversible and light weight. This makes it extremely versatile for outdoor activities, easy to roll up and transport ....and perfect for both indoor and outdoor fun!
Ideally suited to all manner of outdoor activities - especially those involving picnics or caravans - these Indigenous designed mats also double as playroom seating and educational tools. They're beautiful, practical, culturally inspired, eco-friendly and informational. All these qualities without compromising on comfort and aesthetics!
You can read more about the use of our mats in the classroom here and an inspiring, good read story about Aboriginal education in schools at this link.
And if camping is your thing, check out this blog post for tips on how to choose the right-sized mat for your needs.