Zachary Bennett-Brook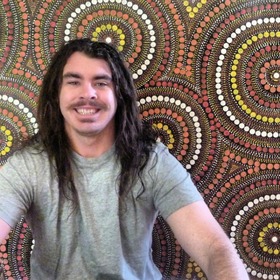 Torres Strait Islander, born and raised on Dharawal Country - Designer of "Coming Together" Torres Strait Islander, born and raised on Dharawal Country - Designer of "Coming Together"
Talented Australian artist Zachary Bennett-Brook is a proud Torres Strait Islander man, born and raised in Dharawal Country, Wollongong, on the south coast of NSW. He has a strong connection to the ocean, as a surfer and saltwater man, and draws on the sea for artistic inspiration.
Zac has been an artist all his life, but turned it into a full-time job in 2013, after graduating from university. He qualified as a PDHPE teacher and was very proud of himself for sticking to study, even at times when he wanted to quit. But art was always close to his heart and he is stoked to be able to make it his career now – and his work is going from strength to strength.
Zac has had plenty of high-profile commissions, including creating work for Chris Hemsworth, Tony Hawk and Patty Mills, as well as international recognition for his striking Indigenous designs. But he also takes pride in the 'little things'. "Little achievements are really significant as well, like when you push yourself to create something new, such as painting a large mural or developing a new style to paint in. I'm always really grateful for those moments," Zac says.
Zac is the founder and principal artist/designer at Saltwater Dreamtime, where he specialises in surfboard design and collaborative projects. Take a look at Zac's stunning artworks and you'll notice that most are based around his personal dreamings of water and the ocean. He showcases the colours of the ocean, tones of deep blue, vibrant purple and sandy golds, often putting a contemporary twist on traditional symbols and styles. The Coming Together design pod chair created exclusively for Recycled Mats is a beautiful example!
Zac says he would one day love the opportunity to design an artwork in conjunction with Qantas, which would feature on a plane. "I think that would be an incredibly amazing opportunity and achievement," he reveals.
Meanwhile, his artistic goal is simply to keep pushing himself to try new things. As a deeply creative individual, Zac is always looking for fresh opportunities. He hopes to keep working with new people and companies, creating new works and dreamings. He is driven by "anything which keeps me passionate and excited to create more art". Watch this space!
---
Leave a comment