Romantic Beach Picnic Ideas for Valentine's Day!
Date Posted:3 February 2017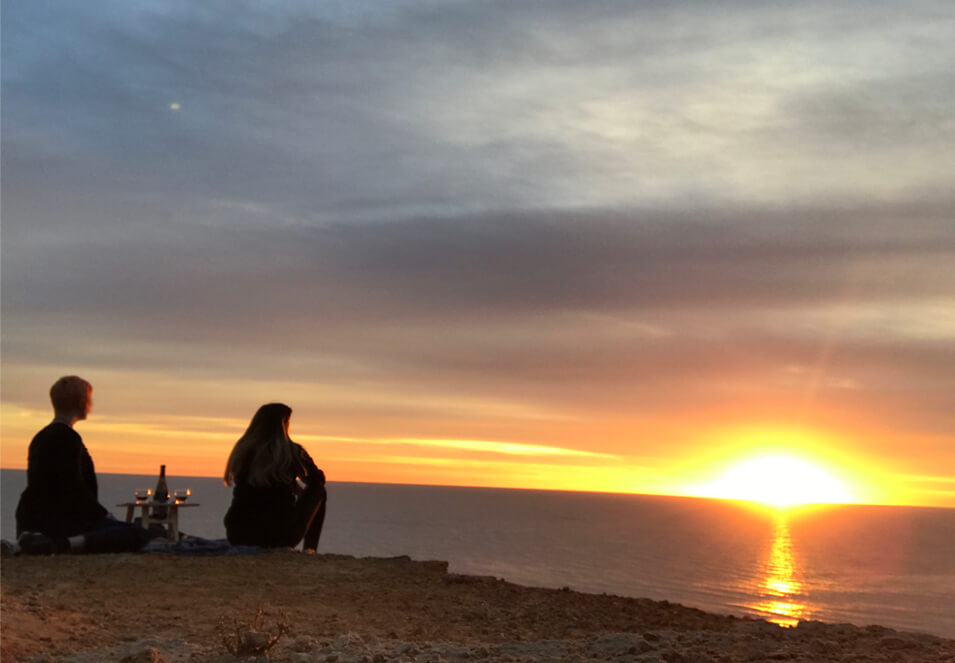 If you are wondering how to make Valentine's Day special or what to do on Valentine's Day this year, why not consider a romantic beach picnic? It's the perfect place to share bubbles and cuddles for two.
All you have to do is pick your perfect spot, rock up with a picnic basket filled with your favourite goodies, tuck a stylish picnic mat under your arm, and settle in for a sunset sensation.
---
What to bring to a picnic
Our favourite time to picnic on the beach is late afternoon when the sun's power has begun to fade, along with the heat of the day. As practiced picnickers, our suggestion is to lay out your recycled mats under the cover of a shady tree or tucked up beside the dunes for a little extra shelter and protection.
We don't like sand in our food or drinks so we make sure to bring our fold-up picnic table too. The legs unfold in two steps to make a sturdy tray table, complete with a pair of wine glass holders and plenty of room for a yummy cheese or antipasto platter too.
We pack an empty plastic bag (for scraps and rubbish), wet wipes for spills, fluffy towels in case we decide on a quick dip, and our favourite Spotify playlist, preloaded with your fave romantic songs. ("Lady in Red" anyone?) Tucking a bottle of exquisite Moet or Veuve Clicquot champagne under your arm is our recommendation on how to make Valentine's Day special and even more memorable than usual!
Beach picnic food ideas
Of course, a picnic is not a picnic without something to nibble. When packing a picnic for two, we can't go past finger food. Who wants the bother of plates and cutlery on a picnic? Not us.
Here's our top 10 romantic picnic food ideas.
Fresh sashimi slices – salmon, tuna, and whitefish are delicious. Be sure to bring a leak-proof container of soy sauce and wasabi too.
Cold prawns and a dipping sauce (keep that plastic bag handy for the scraps) or Oysters, but only if you don't mind a slurp
A selection of gooey cheeses – try at least one soft white cheese from the Tasmanian-owned King Island Dairy.
Antipasto – marinated artichoke hearts, sun-dried tomatoes, capers, jarred roasted red and yellow bell peppers, pickled onions, sweet pickles, pine nuts, dried figs, dried apricots, sardines, marinated mozzarella and boconocini balls, stuffed dolmades, and olives of all shapes and sizes – pitted, non-pitted, stuffed. Savoury scrumptiousness. For the meat eaters, a selection of rolled ham slices, salami, and pepperoni slices
Artisan crackers and crispy breads – there's no place for cheap supermarket crackers when you can pair cheese, olives, and antipasto with cracker heaven. Anything rosemary or salt-encrusted gets our tick of approval. If you make your own to take along, we bow down in homage to you, dear masterchef.
Take your pick - sourdough bread (preferably sliced), sourdough rolls, pita bread, a French stick, toasted focaccia, or warmed homemade garlic bread. If you can pack a cold pack into your picnic basket or esky, then a stick of organic butter from grass-fed cows is a decadent contribution to your picnic.
Moreish dips- hommus is our favourite. Next up is pesto, then black olive tapenade or beetroot dip. Tomato relish or mango chutney are other options.
A bowlful of mixed roasted nuts, toasted almonds or salted pistachios
Wedges of rockmelon, honeydew melon, or watermelon
Chocolate. You can't go wrong with chocolate, especially the old favourite Cadbury Dairy Milk
---
MORE fun picnic ideas for couples
When the eating is done, and it's time to relax on your picnic rugs, here's a few fun ideas to enjoy together.
Take a pack of playing cards. Uno is an old favourite too.
Leave all other devices at home, or lock them in the car.
Write a shared bucket list of all the places you'd like to visit together in the next 10 years.
Write a list of shared goals you'd like to achieve in the next 12 months.
Play Mr Squiggle – challenge each other to finish one another's swirly doodles on the page.
Question time. Find out your loved one's favourite things and take note for next time – favourite song, place, time of day, book, quote, colour, food, dessert, drink, special memory, shared memory, flower, scent, sport, and things to do.
If the weather is a bit so-so, swap your beach picnic for a romantic indoor picnic, or if you prefer non-sandy picnics, take a look at our list of fun picnic spots here. Happy Valentine's Day!
---
Leave a comment